The 2021 Golden Globes were all about escapism and finding your best Zoom angle. While a few — namely the iconic Bill Murray in a Hawaiian shirt and Jason Sudekis in a tie-dye hoodie — opted for quirky comfort, many celebrities took their outfit to the next level with full-length evening gown couture and unique tuxes in all colors — we see you Dan Levy! This year's awards full of glitz and glamour were a welcomed change to the pajamas, sweatpants and top knots we've all been wearing the last year, although Jodie Foster in Prada pajamas curled up on the couch with her wife and dog did make quite the case for the latter. Alongside the choice in outfits, the hair was yet another element we were happy to see. While there were countless looks we loved, we're detailing a few of our favorites below.
Creamy Blonde on Amy Poehler

Hosting the 78th Annual Golden Globes was slightly different this year, one that Tiny Fey and Amy Poehler did with style, grace and a great deal of insight. We were especially taken with Amy Poehler's creamy blonde color, a shade we are bound to see more of this season. Created by Redken Celebrity Colorist Tracey Cunningham, of the look Tracey says, "Hosting the Golden Globes is such a huge accomplishment and I wanted Amy's hair to really pop on stage! Amy's color is the perfect, creamy blonde and it really just accentuates her natural beauty. I refreshed Amy's highlights for that extra brightness and gave her a Redken Shades EQ Gloss to perfect her creamy, blonde tone and add a beautiful, shiny finish."
GET THE COLOR:
Highlight Formula
2 oz. Redken Flash Lift + 2 oz. Redken Pro-Oxide Developer 30 Volume
Root Formula (Zone 1)
1 oz. Redken Shades EQ 09N + 1 oz. Redken Shades EQ 09NB; Process with 2 oz. Redken Shades EQ Processing Solution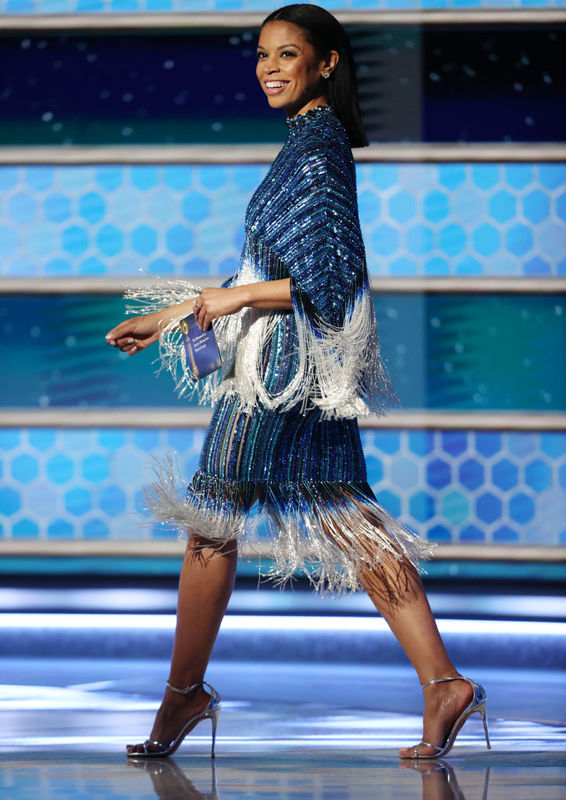 Many of us know and love her for her role on This Is Us, and last night the actress gave us yet another reason to adore her. Stunning in a blue beaded and fringed outfit, her middle part and sleek style perfectly complemented the total look. Celebrity Hairstylist Vernon François got Susan Kelechi Watson ready for the words and is to thank for the stunning #RedkenReady look!
"Susan has been wanting to change her hairstyle, and now is the perfect time to explore that. Today, we're cleansing and conditioning her hair with Redken's NEW! Acidic Bonding Concentrate range, then cutting her hair into a sleek bob and blow-drying it, which is different for her. I love the look!" – Celebrity Hairstylist Vernon François.
GET THE LOOK:
Cleanse and condition hair using Redken Acidic Bonding Concentrate Shampoo and Conditioner. *Vernon's pro tip? Leave the conditioner on for 10 minutes or so while massaging the scalp, then rinse off.
Apply Redken Acidic Perfecting Concentrate Leave-In for heat protection and to strengthen hair. *Vernon's pro tip: "I love Redken Acidic Perfecting Concentrate Leave-In for blow-drying in and for perfecting the natural curl pattern. It's extremely versatile!"
For Susan's look today, her hair was blow-dried using a round brush.
Next up, for Susan, a fresh cut. *Vernon: "As a hairdresser, I have my own technique, usually cutting hair freehand while it's dry. Always see a professional for this part!"
Next, her hair was parted in a deep side part.
Spritz Redken Deep Clean Dry Shampoo onto the mid-lengths and ends of the hair to break it up and give a soft, fluffy feel, before blasting with a hairdryer.
Add soft bends to the length with a curling iron using a medium/medium-high heat, then, spritz Redken Shine Flash all over for a high-gloss finish.
If desired, use a hair elastic to secure hair into a low ponytail.
Finish with an all-over spritz of Redken Triple Take 32 Hairspray. *Vernon: "This has become one of my number one favorite products. I love and use this all the time. It's very flexible with a high-hold finish."
*Learn more about the new Redken Acidic Bonding Concentrate here!
Tousled Texture on Cynthia Nixon

Nominated for Best Supporting Actress for her role in Ratchet, Cynthia Nixon watched the awards from the comfort of her own home with a few special guests. Wearing two equally stunning outfits, Cynthia rocked a colorful fringed number for a "pre-show dance party" and a full-length white silk gown with a pussy bow for the awards - a look that stood out well among the other Zoomers. Celebrity Hairstylist Peter Butler created the hairstyle for the Best Supporting Actress nominee with a few of Redken's latest releases.
"I was deeply inspired by Madonna's True Blue' album for Cynthia's hair tonight. I gave her a volumized, textured look with Redken Triple Dry 15 and Redken Deep Clean Dry Shampoo. These key products gave me the perfect volume and attitude for her look!" – Celebrity Hairstylist Peter Butler.
GET THE LOOK: