Each client has their own individual beauty journey. Some choose highlights; others choose fantasy colors or single tones. What is inevitable is that at some point in your client's life, their hair will begin to turn gray – it is up to you and them to decide how they are going to tackle this. Due to the fact that individuals with gray hair visit the salon frequently, you'll soon learn that they will be some of your most faithful clients. With about 50% of her clients gracing her chair for gray coverage we chatted with Redken Artist Casondra Rolph about her top tips.  Keep reading to learn the best ways to meet the needs, cover, or embrace your client's grays.  
Your Client Just Spotted Their First Gray, Now What?
When it comes to transitioning clients who are just starting to get gray hair, Casondra Rolph says "It's so important to consult with our clients to truly understand what type of coverage they are looking to achieve. If they don't know what they're looking for, I suggest explaining what different coverage options you can offer and the maintenance required for each option. I usually start with Redken Shades EQ Gloss for clients who want less commitment and then transition them to a permanent color line, like Redken Color Gels Lacquers or Redken Cover Fusion."
For Clients That Want To Go Gray, Gracefully
Whether they don't want to deal with the upkeep of getting their hair dyed or they simply like the way their natural tone is turning – suggest that they add an anti-yellow shampoo into their routine. Using a product like Redken Color Extend Graydiant will ensure their grays and eventually, whites won't discolor. Over time, gray and white hair has a tendency to take on a yellow hint, sometimes due to product buildup or environmental factors like harsh water. Educate your client about color theory, the relationship between yellow and violet and how they can cancel each other out.  Going the extra mile to explain to them what is happening to their hair will greatly improve their at-home hair care routine.
For Clients That Need A Little Extra Shine
Redken Color Gels Lacquers are a great way to cover grays of varying densities while adding a heavy dose of shine when your clients need it most. Working with the consistency of a liquid color allows you to easily blend and with 5 new NN shades – 4NN (4.00) Coffee Grounds, 5NN (5.00) Café Mocha, 6NN (6.00) Chocolate Mousse, 7NN (7.00) Cocoa Powder and 8NN (8.00) Crème Brulee – getting 100% gray coverage has never been easier. If needed, you can easily customize shades by mixing with other Color Gels for the ultimate custom color! Casondra says "Redken Color Gels Lacquers and Cover Fusion are my go-tos for coverage. They both offer incredible results, so you really can't go wrong. When choosing between the two, ask yourself and your guest what type of coverage you're looking to achieve. With Redken Color Gels Lacquers, you get incredible coverage with dimensional results…and we can't forget about the shine and beautiful condition it leaves your hair in."

For Clients Looking For The Ultimate Amount Of Control
When clients frequent the salon for their root touch up they are looking for consistency and control within their style. Being able to offer them a low-ammonia option with 100% gray coverage is key – this adds to the comfort of both client and stylist.  Redken Color Fusion is formulated to address the specific needs of aging hair with its exclusive Revitalage Colorbond Technology ™  that adds shine and condition to weakened hair. Casondra chooses Redken Cover Fusion because it "offers amazingly opaque coverage for grays, making it perfect for a guest who is looking for a beautiful solid tone, with lots of shine. One of the many reasons I love Redken Cover Fusion is it has colors like 6NBr, where your naturals are already mixed in the tube. This is a big money and time saver in the salon, because you can get the desired coverage and tone without mixing multiple colors." With 27 shades, beautiful consistent coverage and a pleasant scent, this is definitely the go-to for all of your regulars!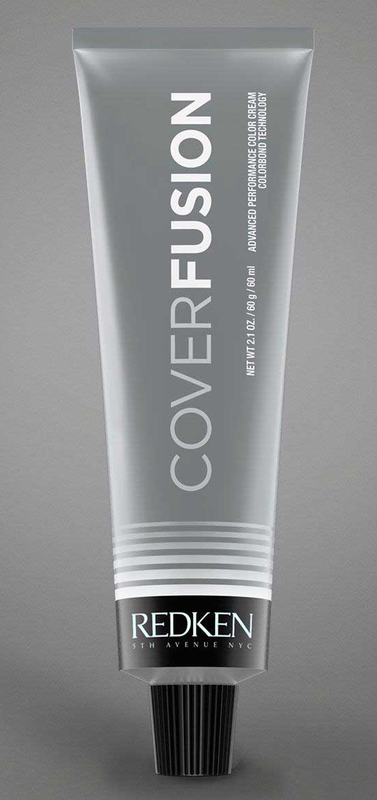 If Your Client's Color Needs A Little Extra Oomph
Hair color has a great deal to do with science and chemistry. From the chemistry of the formula to the chemistry of your client's hair - the latter can change often and without notice. From product buildup to changes in hormones, these can change the way color is absorbed. Casondra notes: "If your guest struggles with coverage and never seem to be 100% happy after a color service, they need a pre-treatment. The natural oils from our face, makeup, and product can often cause build-up, which can act as a barrier for full-coverage color. Redken Pre Art Treatment and Redken Hair Cleansing Cream Shampoo are must-haves on the back bar for many reasons and are a great first step in any type of color correction situation. The benefits of removing these type of barriers and balancing out the hair porosity will not only help you achieve more coverage, but will help you get even richer results."
Tips For Clients To Take Care Of Their Color At Home
The investment in haircolor doesn't end when your client leaves the salon. Send them home with the knowledge needed to take care of their color from initial application to their followup appointment. "My biggest tip for maintaining color-treated hair is less washing and more conditioning treatments," says Casondra. "When shampooing, choose a gentle cleanser that won't strip the color from your hair. My favorites are Redken Color Extend Magnetics Shampoo and Conditioner, and our new Redken Nature + Science Color Extend Shampoo and Conditioner. Think of it this way – you wouldn't wash your face with just anything and your hair needs the same love and care!"
For Clients That Need To Touch Up Between Salon Appointments
Whether traveling or simply streching out your appointments, anyone who colors their grays knows how painful it is to see their regrowth. Casondra offers a great option for the in between. "Redken Pillow Proof Two Day Extender Dry Shampoo is one of my secret tools. It's available for both dark and light hair and is a quick and easy way to hide gray roots, in-between appointments."
No matter which path you client chooses to take with their hair color routine you'll be able to offer them sound advice and expertly tailored services for their every need!