Coloring hair is a process, especially when it comes to blonding techniques. As services involving lightener peak during the summer months, knowing exactly how to maintain and transition your client's color will be essential. From pre-toning to bonding and after-color care, these are the top toning tips for Redken Shades EQ Bonder Inside.
Pre-Toning
Pre-toning is a step that can be taken after lightening but before the final toning service to ensure the finished color is perfect. Think of pre-toning as a primer for makeup. If you want to cancel out red hues in the skin, makeup artists will add a green primer before foundation. This is precisely what you can do with hair color to cancel out unwanted yellow tones, create a neutral finish, or add warmth or coolness. You can easily pre-tone the hair using either a Shades EQ Bonder Inside toner or a tinted shampoo like Redken Color Extend Blondage or Brownlights.
Toning Tips
Shades EQ Bonder Inside

should be applied on dry hair.
AG (Ash Gold) can be used if toner is removed too soon to help combat yellowing without turning it too ashy.
Shades EQ Bonder Inside CLEAR can be used on any type/tone to add endless shine to the hair.
You can use Shades EQ Bonder Inside during a color correction to fill over-lightened hair before going darker.
Shades EQ Bonder Inside is ideal for sensitized hair and high-level blondes to combat damage from the inside out while coloring.

Acidic Bonding Concentrate Intensive Treatment

is the ideal aftercare solution for both in-salon and at-home care following a Shades EQ Bonder Inside service or any color treatment.
After Toning Care:
After any Shades EQ Bonder Inside toning service, color longevity and hair health should be at the top of your home care routine.
Product Suggestions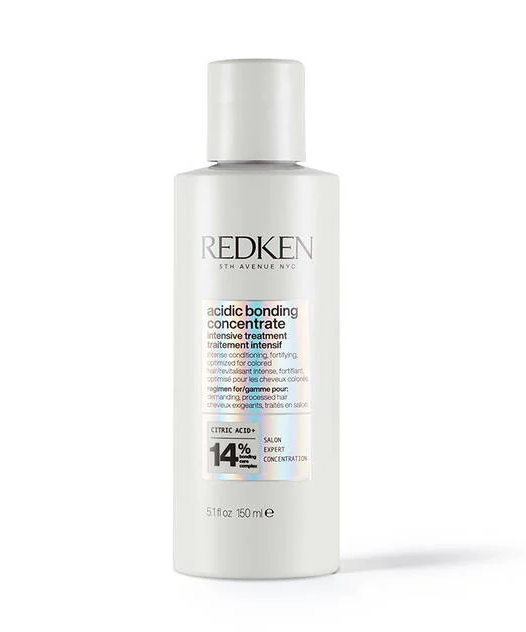 New Acidic Bonding Concentrate Treatment is a pre-shampoo formula that can be used both in salon and at home. It is a concentrated dose of bonding and repair to improve strands inside and out by attaching to weakened bonds in the hair fiber to strengthen areas that have been exposed to damage from color. The Treatment should then be followed with the rest of the Acidic Bonding Concentrate Range — Redken Acidic Bonding Concentrate Shampoo + Redken Acidic Bonding Concentrate Conditioner and Redken Acidic Perfecting Leave-In Treatment for best results.
By using the entire Acidic Bonding Concentrate system it can lead to 14x Smoother, 2x Stronger, and 90 percent more conditioned results.
To Elongate Tone:
Redken Color Extend includes Blondage, Brownlights, and High Bright to improve and extend the life of your color.