When it comes to your male clientele, inevitably the conversation about thinning hair and loss will come up. Clients everywhere are constantly looking for ways to cut down on the appearance of hair loss and as a stylist, you are their first line of defense! For the first time ever, Sam Villa Co-founder of Sam Villa and Global Artistic Ambassador for Redken 5th Avenue, the stylist who teaches stylists, is the one sitting in the chair! Discussing the top tips to cut down on this problem, Andrew Carruthers, Education Director for Sam Villa, reveals the secrets behind his coif and demonstrates techniques to combat low hair density and a thinning hairline.
Click below to watch the video and take a peek at the highlights!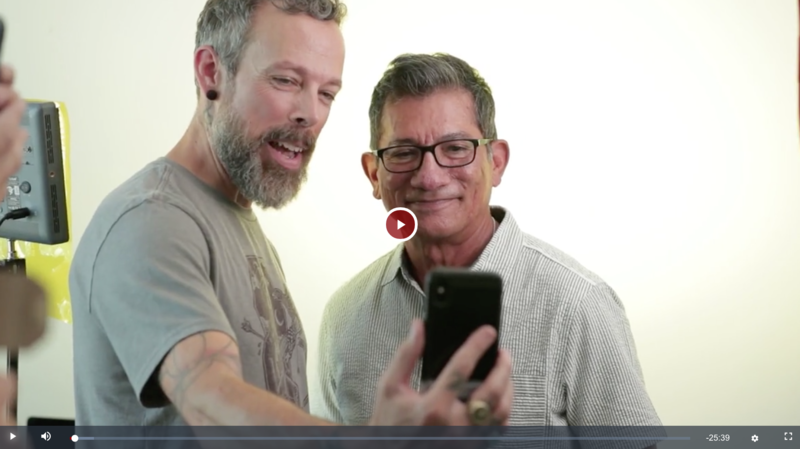 Highlights
Vertical Sections and Finger Angle - Leaves more length on the top and bottom of each ``section. Keeping it longer at those points creates a feeling of density and visual balance.
Area #2/Vertical Transition – 90° elevation paired with a straight finger angle creates length at top and bottom to keep weight in the corner. It will be detached from underneath and that is what is needed to build strength and volume.
Area # 3 - Sectioning across the head (ear to ear) with elevation straight up and deeply notching creates deliberate peaks and valleys for visual texture.
Hairline - Sectioning diagonally from crown into the recession area allows a longer piece of hair to fill in the recession spot creating the illusion of a more youthful hairline.
Recession Area - Be conscious of the distance between the recession area and length of the front fringe, if it's too far it will make the recession look even bigger.
Crown – Leave more length to create more density and over direct forward to build more weight. Make sure to balance the length side to side.
Styling – Using Redken Guts 10 and a Sam Villa Artist Series Professional Blow Dryer while scrunching and squeezing hair with hands will encourage natural texture and body. Redken Rough Paste 12 can be applied after detailing to add definition at the hair tips and make hair look even thicker.
Tools - For a soft perimeter line, use the Sam Villa Signature Series Reversible Blending Shear. Use a Sam Villa Signature Series Razor to clean up the hairline. The Sam Villa Signature Series InvisiBlend Shear is good for slight visual blending of areas 1 to 2 and 2 to 3. And for surface cutting, use the Sam Villa Artist Series Slide Cutting Shear 6" for more visual texture and definition.
---
For FREE education, special promotions and weekly inspiration and online workshops, be sure to sign up HERE!
Looking for even more hair care and styling tricks, be sure to stalk Sam Villa Professional on Bangstyle and check out all of his tools in the Bangstyle Store!