Creating beautiful hair color is a never-ending learning experience. It is a delicate dance between experimentation and technique that can change anytime a client comes in. Being a great colorist doesn't always mean you get a color formula right the first time around either. It is through trial and error, and an understanding of color theory, that we learn the color methods necessary to create, and correct, beautiful color formulas.
A common colorist technique is the use of intensifiers to cancel unwanted tones in hair color. If your client's hair pulls yellow or orange, you must add violet or blue to cancel unwanted tones, in turn creating a neutral shade. Another great use for intensifiers is to add complimentary colors to your formulations, creating accents within the finished tone.
If you've ever wondered how a colorist can formulate a killer platinum tone, or a perfectly ash blonde; it is with the use of intensifiers. With the latest release of their Creative Blends Kit, Scruples gives us TRUE INTEGRITY Graphite Intensifier. This highly concentrated, pure pigment allows you to create those silver and gray tones that are so highly coveted. Therefore, giving you the ability to cancel out warm tones on clients that wish to have a beige blonde or pearlescent brunette.
This kit includes four creative blends – the formulas you need to create fashion-forward colors designed exclusively by Scruples Artists: Dove, Slate, Heather and Mauve.
All TRUE INTEGRITY shades are calibrated at every level and are true to level and tone. They are also fortified with Scruples' exclusive Protective Barrier Complex (PBX®), which shields the haircolor molecule and deposits it deep into the hair.
Kit includes:
• 1 TRUE INTEGRITY Graphite Intensifier (60 ml/2.05 oz) • 4 TRUE INTEGRITY Shades, 1 each (60 ml/2.05 oz) 8G, 6RR, UL–A, 5RM • 1 TRUE INTEGRITY Clear (60 ml/2.05 oz)
• 1 LIMITED EDITION swatch book page, featuring four new blends created exclusively by Scruples Artists!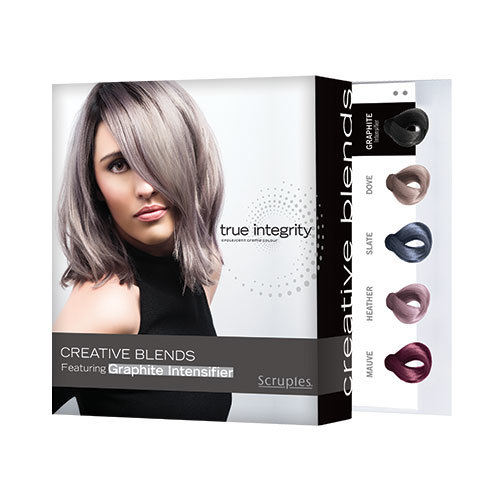 Using intensifiers can also allow you to put your own personal spin on color. It gives you the power to play with intensity and craft new shades, creating a truly bespoke experience for your clients. Whether you're looking for new ways to create or better ways to correct, Scruples Intensifier are the best way to design custom color blends.
Want to know more about Scruples newest colors? Be sure to stalk Scruples on Bangstyle, check out their latest tutorials, and follow them on Instagram!