Apart from the much-needed root touch-ups and gloss applications, another service we'll see clients flocking to the salon for once open will be bang trims! Whether your clients followed your advice and abstained from trying to trim them at home or if they are in need of a bit of a fix, baby fringe is a great way to offer them the swift change they're probably looking for at the moment!
To get the look we chatted with Jesse Linares of the Sam Villa ArTeam, who is a pro at creating dramatic looks. Take a peek at his technique for baby fringe that looks aggressively intentional.
"I know it looks scary, but sometimes the scariest techniques are actually the easiest ones to pull off," explains Linares.
Get The Look
Isolate where fringe should live – usually the corner of one eye vertically to the other, past that hair will fall to the side of the head.
When going for a crisp definition like a picket fence or zig-zag, cut hair at a natural fall, elevating it will lose strength in the edge.
Have guest close their eye and make the first cut, the low elevation creates a very strong line, make the creative decision on the next cut…how long or short, open up one eye, attack from the opposite direction to create a peak…
Be aggressive, and note that the shorter the hair, the more the influence of the root comes into play, which can make it look more punk and edgy.
Use a Sam Villa Signature Series InvisiBlend Shear to take some heaviness away by gently point cutting sections…it removes only a small amount of hair with each cut, so it's good for knocking the weight off the ends so they sit more sweetly.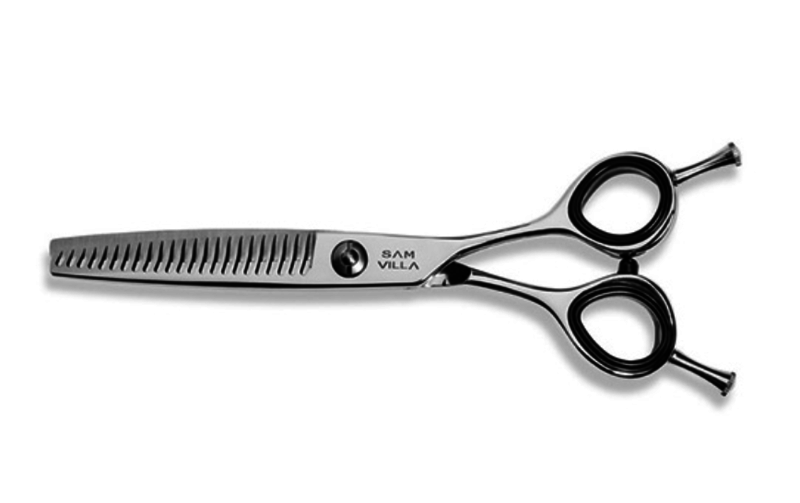 ---
For FREE education, special promotions and weekly inspiration and online workshops, be sure to sign up HERE!
Looking for even more hair care and styling tricks, be sure to stalk Sam Villa Professional on Bangstyle and check out all of his tools in the Bangstyle Store!