Balayaged, highlighted, and natural blondes are constantly searching for the easiest ways to keep their color looking bright. Due to harsh water, environmental stressors and the normal degree of color fade it can sometimes be quite a challenge, especially during specific seasons. Redken has always been at the helm of innovation when creating gorgeous shades in the salon, but consumers are starting to notice that they are also paramount in hair care. Case in point: the NEW! Redken Blondage High Bright range.
Redken Blondage High Bright
Blonde hair care can be quite the commitment and most clients notice a loss in brightness and lightness in the first few weeks following a color appointment. The latest release — Redken Blondage High Bright — includes a pre-shampoo treatment, a shampoo, and a conditioner specifically created for blondes to address this issue.
Pick From:
How It Works:
pH balanced and formulated with Vitamin C and the Brightening Care Complex, this system works by removing build-up and dulling agents to reveal your brightest and lightest blonde instantly.
Why You'll Love It:
The more you use it, the brighter the results! In addition to washing away dullness and impurities and revealing a lighter, shade instantly (92% of blondes saw brightening in a single application), increased use of the Redken Blondage High Bright system leads to better results over time.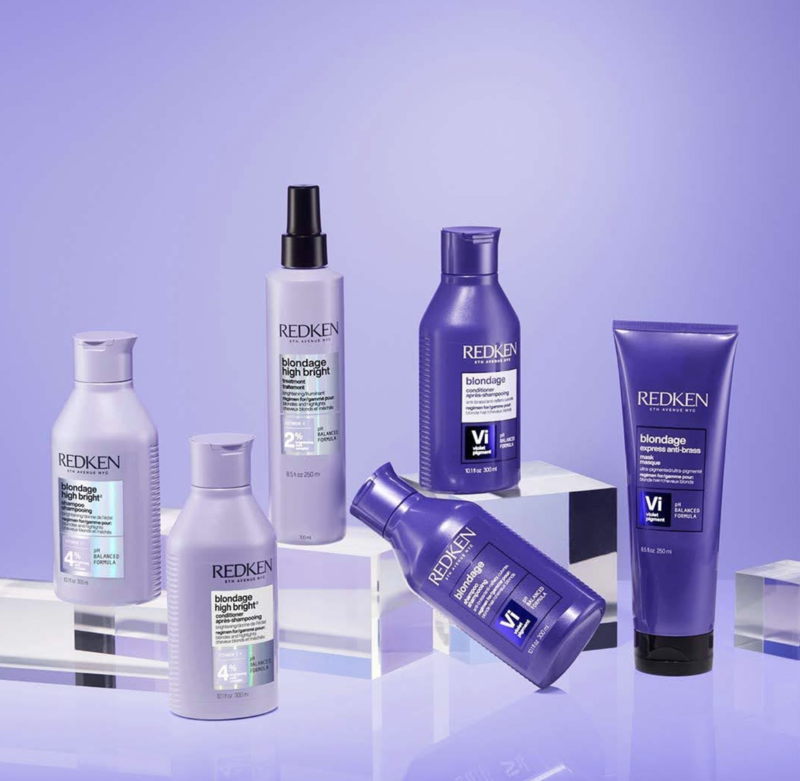 The Difference Between Redken Color Extend Blondage and Blondage High Bright:
Adding to their Blonde care range, Redken Color Extend Blondage features violet-pigmented color-depositing products while the new Blondage High Bright line is pigment-free. The main difference between the two is that Redken Color Extend Blondage is ideal for blondes looking to neutralize unwanted tones. At the same time, Blondage High Bright lifts all tones by removing impurities. In addition to improved color, Blondage High Bright seals the cuticles and fills the hair's porosity to improve the look and feel, delivering a silky, soft finish.
Pick From:
Follow @redken to learn the latest about Redken Blondage High Bright!