Whether you are a stylist or a colorist, shears are the most important tool that a hairdresser can invest in. Now when it comes to picking the perfect pair, that's where everyone can use a little help. Keep reading to find out the top tips from Sam Villa, co-founder of Sam Villa and Global Artistic Ambassador for Redken 5th Avenue, on shopping for this essential tool.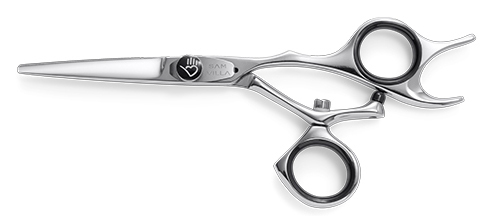 1. Handle Design – Look for an Ergonomic Crane Handle with a forward set thumb that forces the hand, wrist, elbow and shoulder into a natural and neutral position to prevent repetitive stress injuries. Not sure about the design? Hold them! Drop arm at side in a neutral position, shake, bring it up naturally and hold the shears. Elbow should be down and relaxed, hands and fingers in a neutral position with the shear blades horizontal, and minimal thumb movement should be needed to open and close the shear.
2. Tension Adjustment – Tension adjuster should place even tension across the length of the blade while the shear is being opened and closed.
3. Polymer Lining - Polymer Lined shears have a strip of polymer in the pivot point to provide a smoother cutting action vs. metal on metal contact, which decreases the life of the blade. Polymer and Teflon linings are usually found on premium hair cutting shears.
4. Blades – Hand Honed Convex Blades start out sharper and stay sharp longer between sharpening vs. Machine Made Beveled Edges that are not as sharp and dull faster.
5. Metal – Look for advanced metals like Japanese Molybdenum Alloy, which is incredibly durable for a long lasting edge but feels soft as the hair is cut to reduce fatigue. Other materials can easily get nicks, causing more metal to be shaved away when sharpening, thus decreasing the life of the blade.
---
Take a peek at all of the tips and beautiful tools Sam has created for artists. For even more hair care and styling tricks, be sure to stalk Sam Villa Professional on Bangstyle and check out all of his tools in the Bangstyle Store!