From the length and fullness to how silky your new hair feels — getting hair extensions is exciting! Walking out of the salon for the first time feels absolutely fabulous, but what happens when you get home and need to care for your hand tied extensions? It's all up to you now and it can be nerve-wracking when you have to wash and style your extensions for the first time. To ease the process, hairstylist/hair extension expert and founder of Invisible Bead Extensions McKenzie Turley, is letting us in on a few insider secrets on how to care for your hand-tied hair extensions to keep them looking and feeling amazing.
Top Tips to Care for Hand-tied Hair Extensions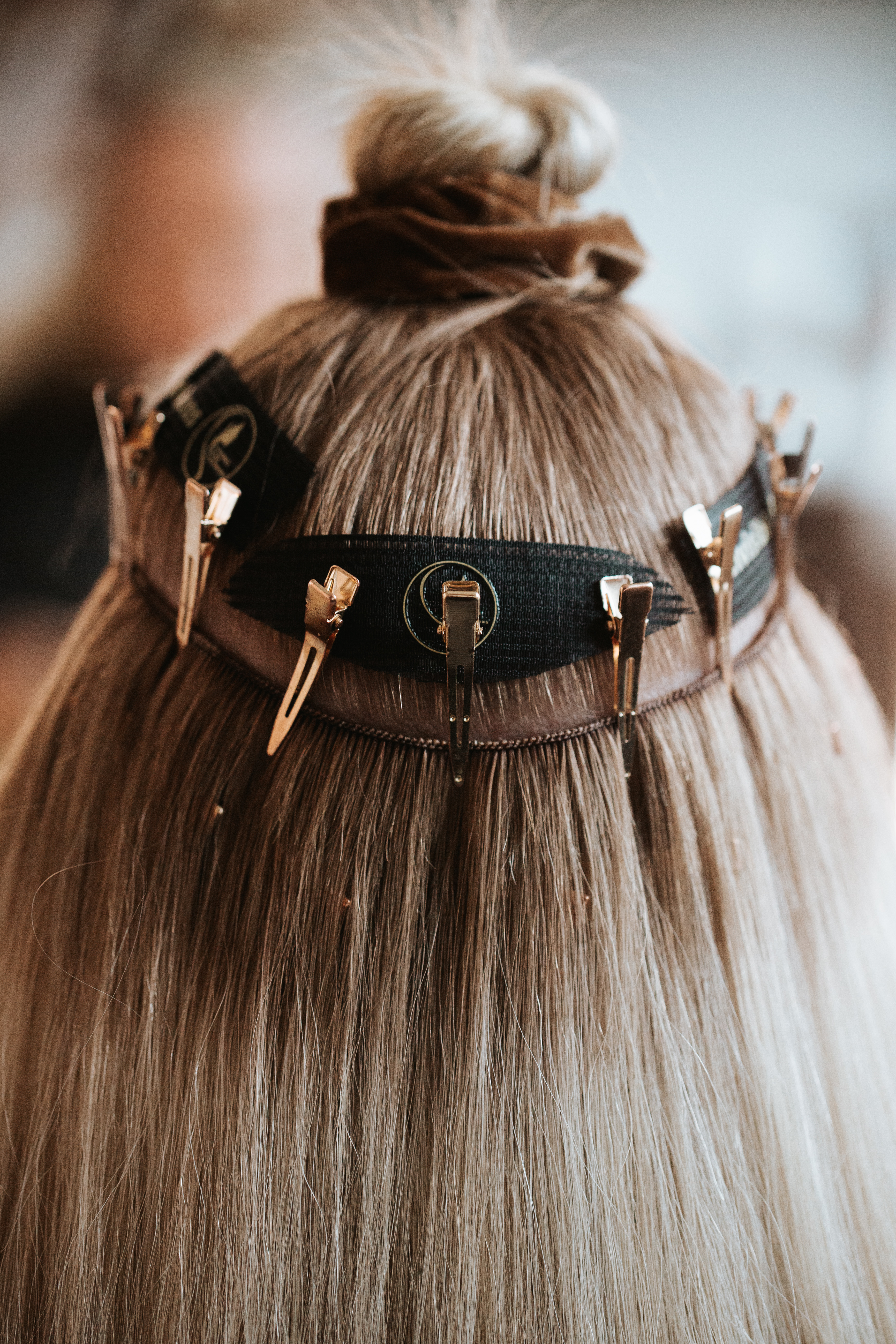 How To Wash Hand-tied Hair Extensions
The process of washing your extensions is going to be one you want to master as soon as possible.
First, start with detangling as much as possible before getting your hair extensions wet.
Brush first, avoiding the weft line, to smooth your hair before washing. You will be able to work the shampoo and conditioner through your hair easier if you have separated your rows and brushed thoroughly.
Hand tied extensions should then be conditioned from the middle of the hair strand down through the ends. You can gently brush the conditioner through your extensions to help detangle and smooth before rinsing.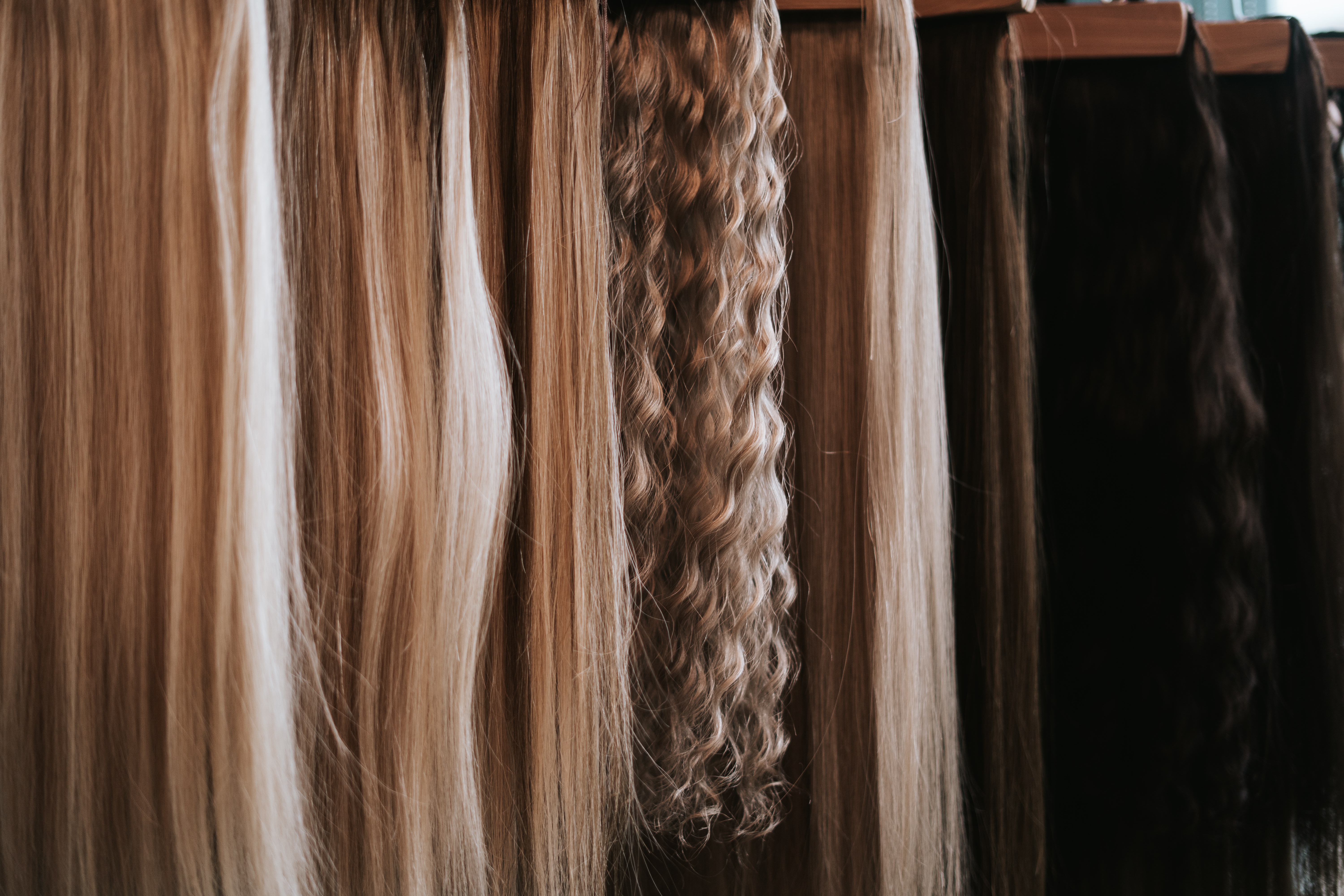 Styling Hand-tied Hair Extensions at Home
Once out of the shower, make sure to apply a leave-in conditioner and serum to your mids and ends. Doing this ensures that your extensions receive the moisture they need to last as long as possible without breaking off and becoming brittle. Using professional products is a must here, and I always recommend Goldie Locks® professional products to my clients as they were formulated first for extension hair.
You can allow your hand tied extensions to air dry but you need to make sure the top of the weft line is completely dried. Focus a blow dryer just along the top of the hand tied wefts to ensure moisture is completely removed. If the top of your wefts are not completely dried each time you wash, they can retain moisture and begin to swell. Once they swell, they will need to be replaced.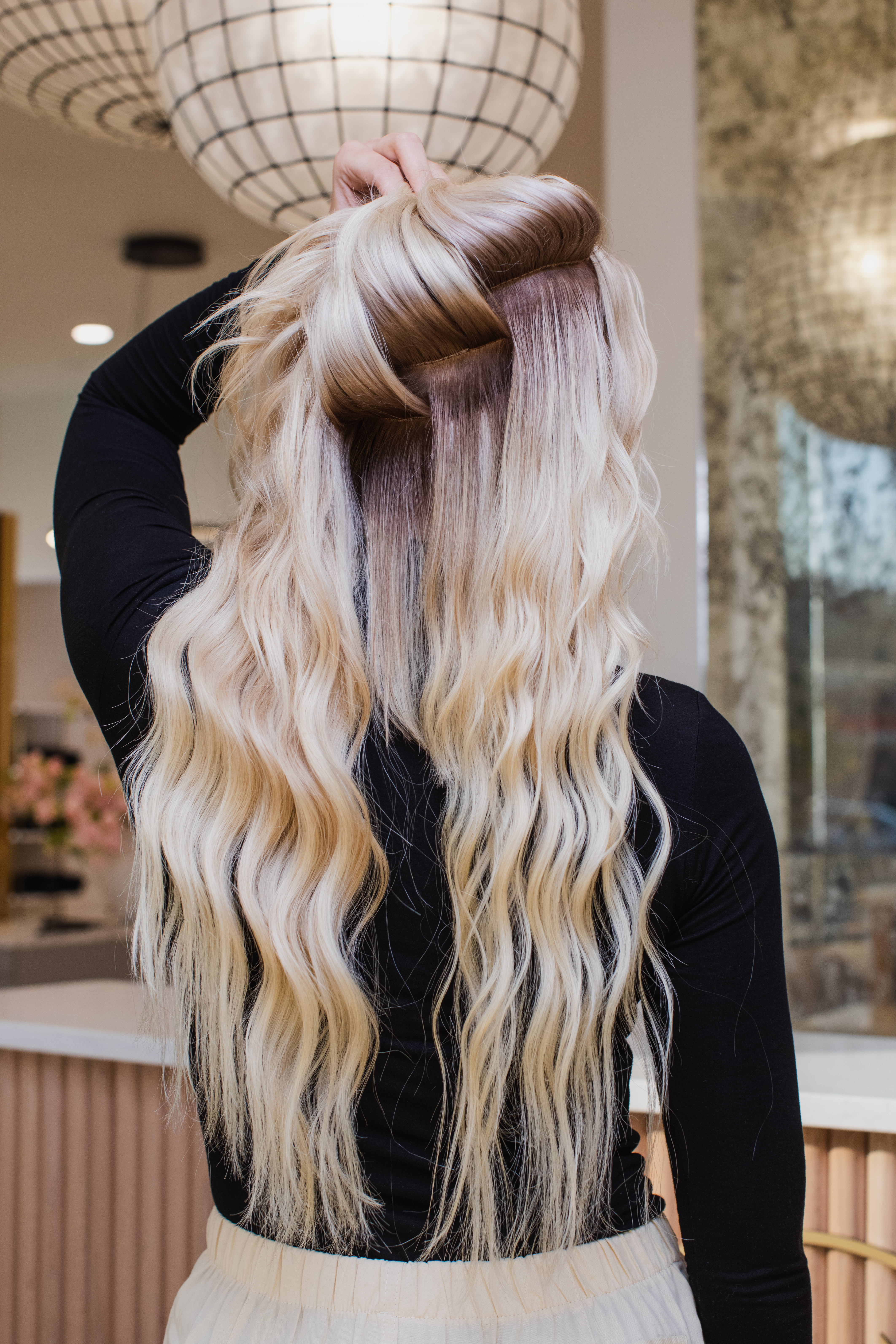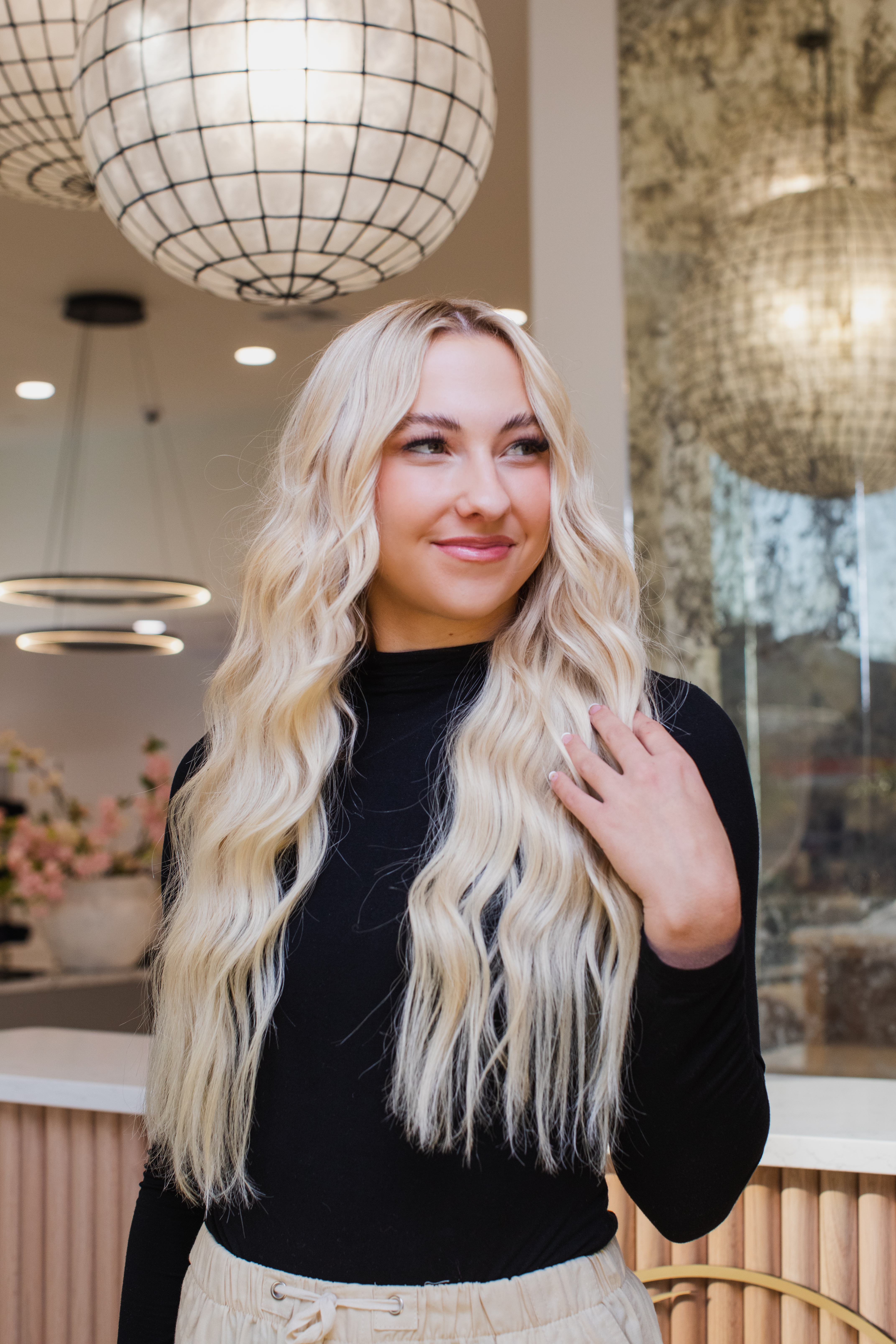 How To Care for Hand-tied Extensions While You Sleep
It is also essential to establish a good nighttime preparation routine when wearing hand-tied hair extensions. You will need to brush thoroughly then apply a serum for hydration. You can then secure your hair in a loose braid or bun. Make sure you're using a silk or satin pillowcase to reduce friction of your head rubbing against your pillow at night.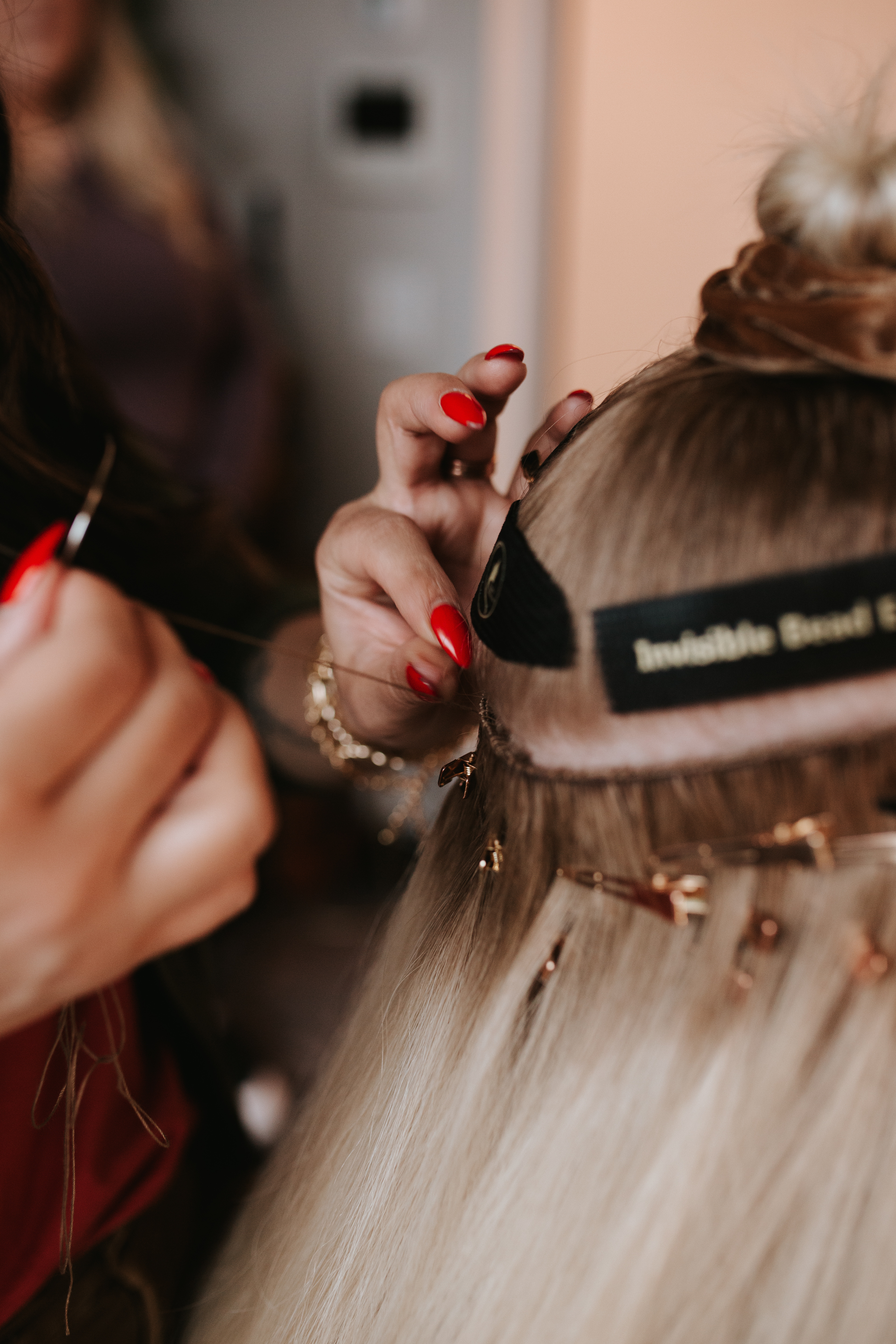 Tips for Brushing Hand-tied Hair Extensions
It's important to brush your hair multiple times a day when wearing hand tied extensions.
You will want to use a boar/nylon bristle combo brush for the best result. This type of brush not only detangles but also smooths and softens.
Hold your brush in one hand and use your other hand to press against the attachment points for support.
Start from the ends and gently work up the hair strand towards the root.
Brush in the direction your hand tied extensions are fastened, avoiding overdirecting or pulling to keep your rows safely and comfortably attached.
Wearing hand tied extensions can give the dream hair you've always wanted, but you also need to learn how to maintain them for the best experience possible.
Products To Pair with Invisibel Hand-tied Hair Extensions
Soften and smooth strands with a luxurious shampoo and conditioner duo that gently cleanses the hair and provides an uplifting shower experience with a lovely aroma. This formula provides moisture for all hair types to create shiny, soft, manageable hair. Safe for color-treated or chemically-processed hair and extensions. In addition to protecting color, this formula will also cut down on frizz, protect color, and improve elasticity.
Treat yourself to this highly concentrated formula full of proteins, vitamins, and antioxidants. This mask promotes intense shine and hydration while restoring dry, damaged hair.
Anytime you wash your hair, a hydrating leave-in should be applied to enhance the benefits of your moisturizing system. From sealing split ends to calming frizz and protecting against UV rays and heat — this leave-in is a must.
Utilize on freshly washed hair or work into your hair oiling routine throughout the week. This lightweight serum is highly effective at restoring hair and providing frizz-free, humidity-resistant results and helps hair retain moisture and mend split ends for a flawless finish.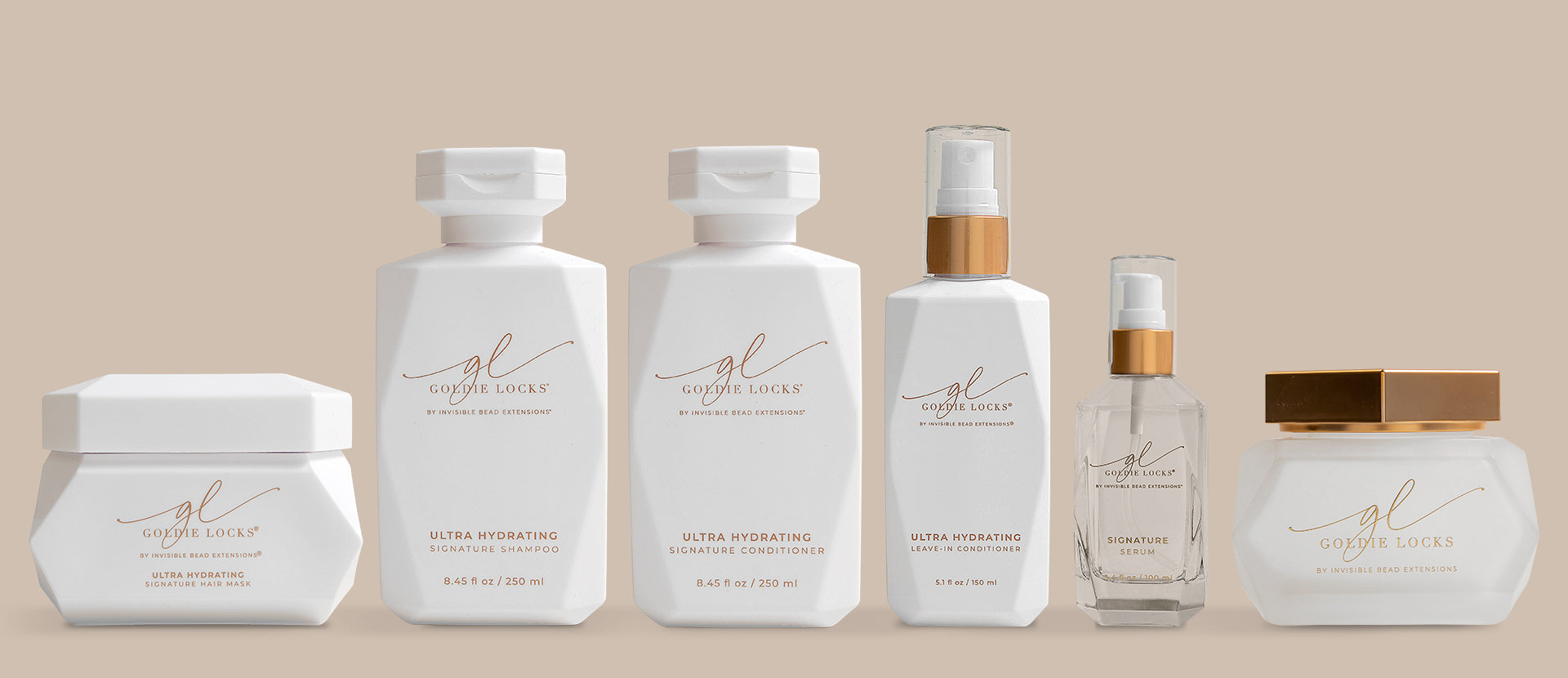 In addition to being extension-friendly and color-safe, Goldie Locks products are vegan, cruelty-free, and free of sulfates, parabens, phthalates, gluten, and DMDMH. Learn more about the products here!
---
About The Expert: Mckenzie Turley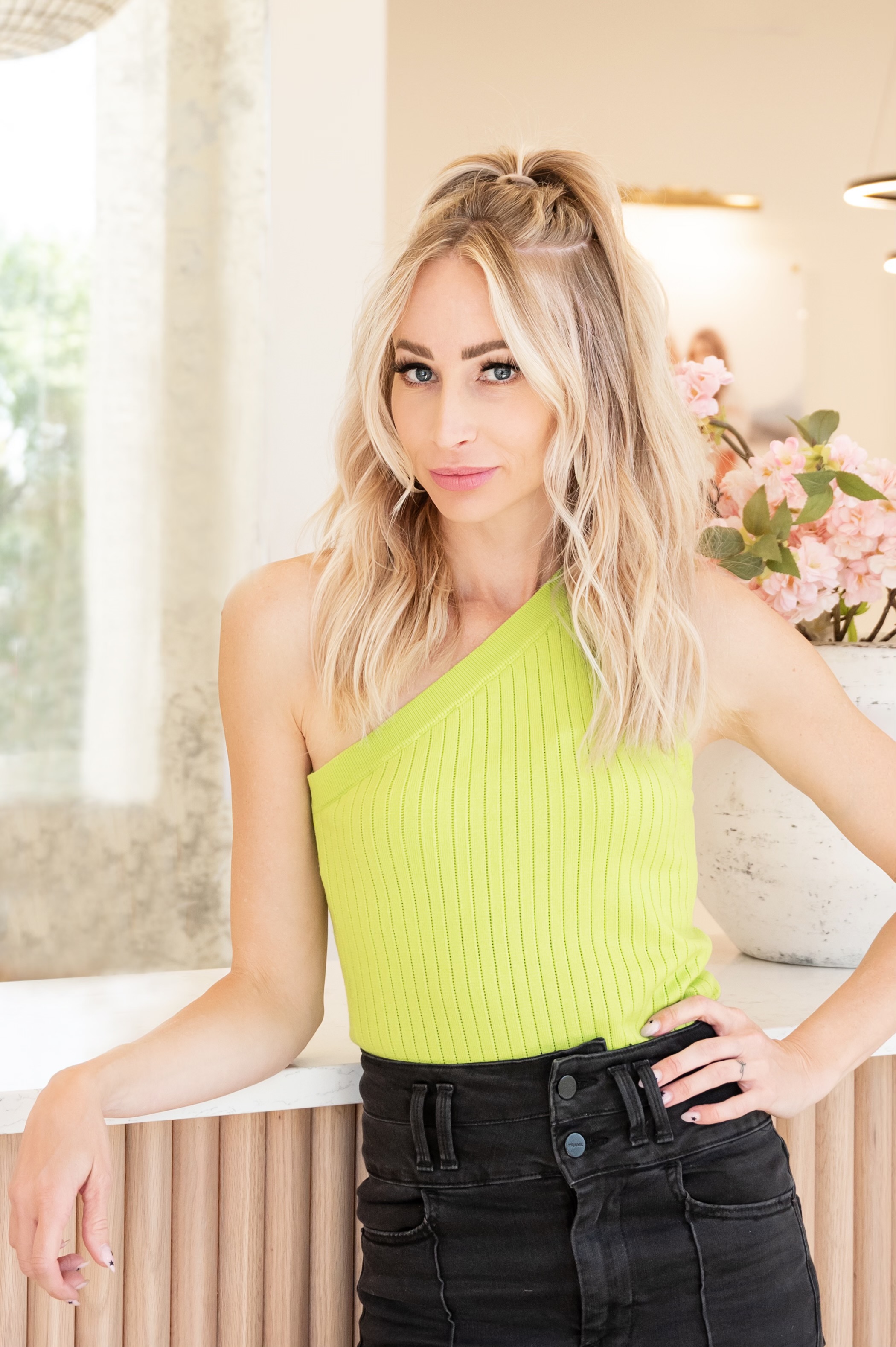 Meet Mckenzie Turley, a true pioneer in the hair extension industry and the founder of Invisible Bead Extensions (IBE®), a game-changing method for hand-tied weft installation that has taken the industry by storm. With an industry first patented method, clients can now enjoy true flexibility and comfortability without any risk of their extension secrets being exposed. McKenzie is not just a successful businesswoman, but also a champion of healthy hair. She created and founded Goldielocks, a company that offers supplements for women to restore hair to its fullest potential. Goldielocks also has a full hair care line that is constantly growing to provide the utmost moisturizing hair care for extension wearers and for all hair types. Mckenzie Turley's dedication to innovation and education is truly inspiring. She is a trailblazer in the industry and has paved the way for total success in the industry. McKenzie Turley is a true visionary, and her impact on the industry will be felt for years to come.