It's the key to a salon-worthy blow-out, but not many of us really know how to use it — below we're demystifying round brushes so anyone can achieve an effortless finish.
Round brushes allow guests to create polished, voluminous styles but can often get frustrated when maneuvering a round brush at home. It often leads to tangles, awkward angles and fatigue. Instead of allowing this to get in the way of stellar results, take a peek at these tips from Karla Valenzuela, Sam Villa Ambassador and Redken Artist @kolor.me. karlaa — she will make every guest feel like they are a pro!
One of the top tips Karla recommends for all clients is to rough dry first! "I advise guests to dry their hair 70% and then turn to the round brush to stretch and smooth. Using a round brush on sopping wet hair can get exhausting and take longer to dry, which gets very frustrating," says Valenzuela.
Tips for Using a Round Brush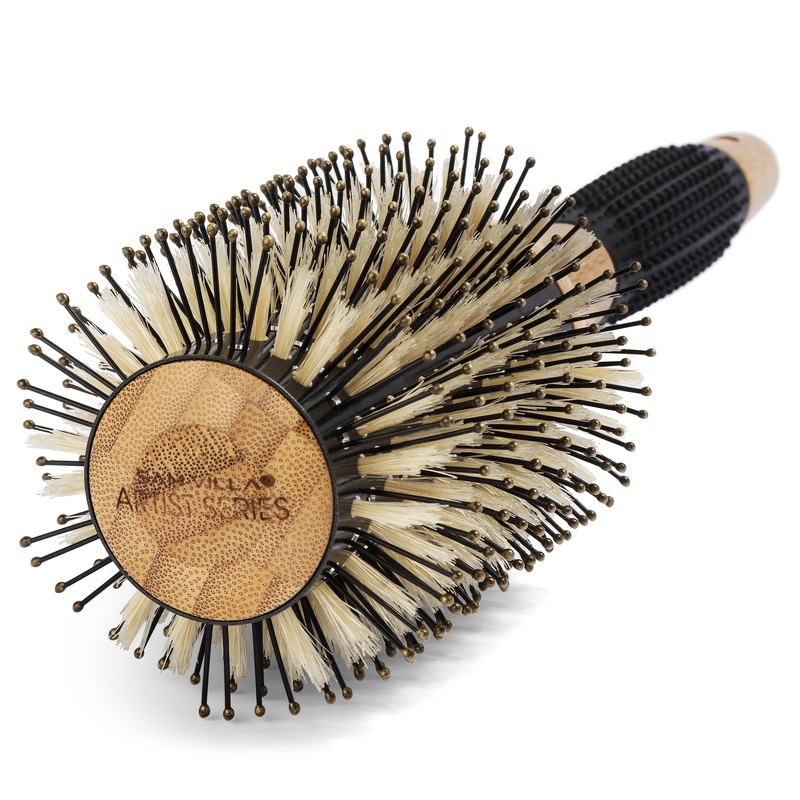 Section:
Use sectioning clips to organize hair in the diameter and width of the round brush for better control. Working with sections that are too large can result in a lack of volume, less tension for smoothing and cause the brush to get tangled in hair.
Size:
Large brushes are good for smoothing, straightening and creating volume with minimum curve/ flip on the ends for longer hair. Medium brushes create more bend at the ends and small ones create the most bend. A medium to small round brush is perfect for shorter length to shoulder length hair - using a larger size will not induce enough bounce. A small round brush can also be used to create "blow dry curls" as the smaller the barrel, the tighter the curl.
Bristles:
Boar bristles are good for textured hair that lacks luster because they distribute natural oils for a smooth shiny finish. Nylon bristles are more flexible which allow the brush to glide easier through hair and dry it faster – good for hair on the finer side or that lacks fullness as nylon bristles build maximum volume. Both types of round brushes can create volume, but the boar bristles give more tension to compress hair while nylon bristles have less tension for an airier effect.
Barrell:
Ceramic coated brushes retain heat to help lock in shape and also speed up drying time which guests appreciate as many say their arms get tired. Brushes with ionic technology are also ideal for guests as they polish the cuticle, reduce frizz and create that salon professional shine.
Top Product Picks:
"My favorite round brush is the Sam Villa Artist Series Spiral Thermal Brush because it has a mix of nylon and boar bristles. It also has a thermal core that retains heat, so it delivers maximum volume and shine all at the same time," explains Valenzuela. "And for even more convenience, I recommend using a blow dry hot brush because you can hold just 1 tool instead of both a brush and dryer, it's also good for those who have difficulty raising their arms," she adds.
Sam Villa Artist Series Spiral Thermal Brush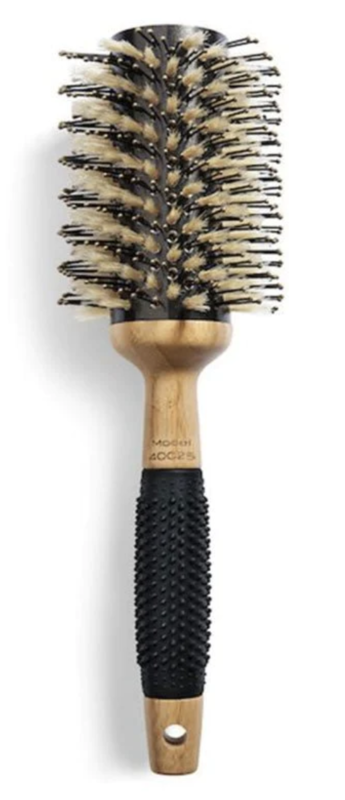 Sam Villa Professional Blow Dryer Brush