Inspired by the emergence of festival dressing, the KEVIN.MUPRHY team gathered from around the globe to create their "Je Suis Ibiza" collection during the latest STYLE.MASTER shoot. Featured in Australia's own "Culture Magazine", the collection embraces Kevin's recognizable and classic "inside, outside, daytime, nighttime, beach hair." This look is neither day nor night nor is it swim or bling, it is caught somewhere in the middle. Check out the steps to replicate the iconic, edgy and fresh new collection.
Starting with the braids, PRIME the hair with ANGEL.WASH and ANGEL.RINSE
PREP the hair with an even amount SUPER.GOO on damp hair to provide control and definition as you work through the look.
Begin by creating a 1-inch section down the center of the head from front to back and clip away the remaining hair on each side for now. Beginning at the front create an inverted braid all the way to the nape and to the ends, making sure to take clean sections throughout.
 Apply STAYING.ALIVE as you go to keep the braid damp. Finish off with a transparent elastic.
Take 1/2-inch sections on each side of the braid. Begin on one side, take a small section and only start a very fine braid at the root, blend and begin twisting the section upward and tight using your thumb and index finger. Make sure to comb the sections as you go to establish a seamless twist. Continue all the way to the nape and ends. Finish with a transparent elastic. Repeat on opposite side.
For the sleek section, dampen the hair with a water bottle and apply more SUPER.GOO. Use the SMOOTHING.BRUSH and work the hair towards the crown and flat to the scalp. Spray SESSION.SPRAY close and liberally to create a high shine wet look. Hold hair in place at crown area and braid the remaining section. Finish with elastic and repeat on opposite side.
Take another 1/2 inch section on sides and repeat the twisting technique as mentioned above only to just behind the ear.
 Smooth the last sections above the ear using the same smoothing technique mentioned above to just behind the ear. Repeat on opposite side. Now move to the back and using the last three sections (smooth, twisted, smooth) braid them together creating a cleaner finish in the back.
Remember to use STAYING.ALIVE throughout the look to dampen the hair. FINISH the hair with SHIMMER.SHINE.
For more looks from KEVIN.MURPHY, visit their channel on Bangstyle.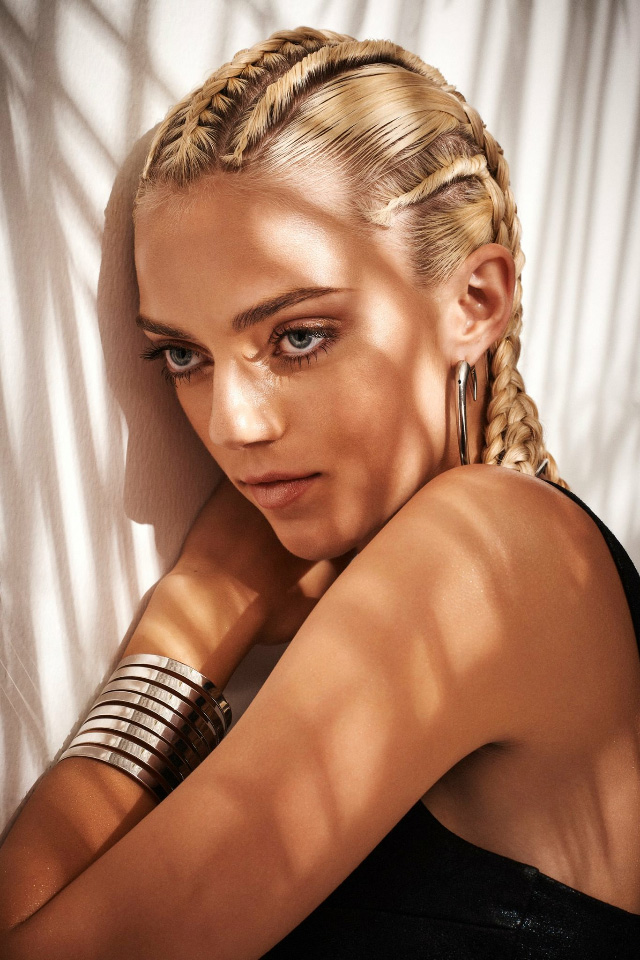 Je Suis Ibiza credits
Photographer: Luis Murphy
Hair Director: Kevin Murphy
Hair by:
David Lopez
Marcos Diaz
Tim Abney
Nathan Gorman
Camilla Jonsson
Tim McClean
Joseph Gossen
Ali Batista
Sarah Lund
Natalie Morgan
Juha-Matti Manninen
Massimo Morello
Hair Assistants:
Robert Barcelo
Jenny Calderon
Ahou Mofid
Photographic Assistant and Digital:
John O'Rourke
Reuben Gates
Fashion Stylist:
Sean Panella
Key makeup artist: Shizuka Schalk
Makeup assistant: Mieko Ito
Models:
Alexander K @ LA Models
Pyper America @ Next
Daisy Clementine @ Next
Chris S @ HMMA LA
Allegra @ Next
Amanda G @ Next
Producer: Imogene Altznauer
Assistant Producer: Deanna Sage