The beautiful thing about curls lies in their truly unique patterns. With texture ranging from loose and wavy to tight and coiled, and many times with more than one pattern on a single head, the options to customize their look are endless. Similar to cutting or styling, when it comes to coloring curls, there are a few unique methods that can alter the outcome. Not sure the best way to apply lightener to curls? Take a peek at a few of our favorite tips.
The Consultation
Prior to the service, you'll want to discuss a few key factors with your client:
How often do you wear your hair curly?
Do you ever wear your hair straight?
What is your regular wash and dry routine?
What is your budget?
How much time can you allocate to upkeep?
While these are all important questions, when it comes to color application, finding out how they wear their hair daily is imperative. If your client mostly wears their hair straight, consider applying lightener to straightened hair. However, if they wear their hair curl most of the time, applying lightener to their natural curl pattern is key.
Applying Lightener to Curls
Although working in clear cut sections and foils can help keep the service neat and tidy, this isn't always the best application technique for curly hair due to their beautiful random nature. Balayage has proven to be one of the best ways to apply lightener to curls for a natural, yet vibrant effect. Once you've opted for a free-hand technique, you can easily paint individual curls or work in bespoke sections to ensure a custom-tailored finish. The great thing about this approach is the ability to cut down on damage and see exactly where highlights are being placed throughout the style. Using balayage, you have the freedom to create highlights and depth within each curl or section as you see fit.
The best freehand lightener for curls:
Keune Ultimate Blonde Freedom Blonde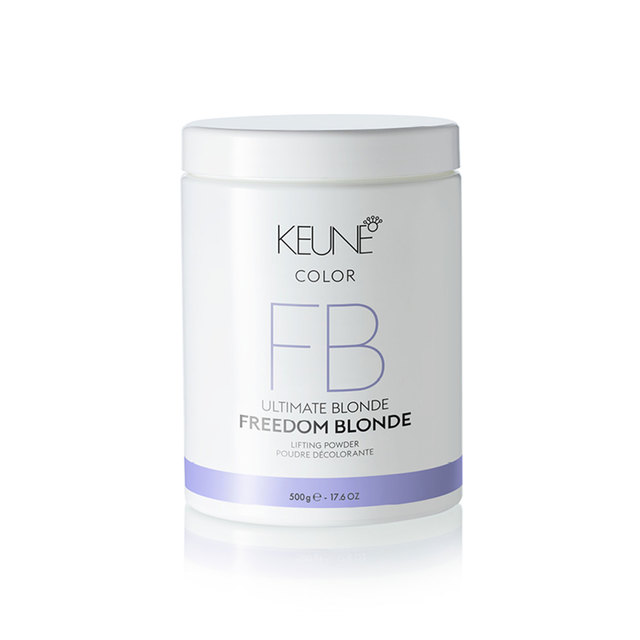 Maintenance
As with any hair color application, clients need to be aware of the upkeep factor. The beautiful thing about this application method is the fairly low-maintenance aspect of it. Apply balayage to curls often looks better in time, because as the hair grows it creates and even more lived-in look. Additionally, by foregoing foils, this method cuts down on damage and preserves the integrity of the hair. The one thing many curl clients will need to keep up on is an occasional gloss and utilizing tinted shampoo in between.
To care for curls and specifically their color, consider adding these product picks:
Keune Care Silver Savior Shampoo & Conditioner
Keune Care Vital Nutrition Mask