As a beauty editor, it sometimes gets difficult to delineate between great marketing and a great product. There are a ton of ideas, formulas, and releases that come across our desks and while many fall in the "like" pile, there are a few that fall in the "LOVE" a.k.a. "can't live without" a.k.a. "never leaving home without this" pile.
When it comes to picking a single product, there is no doubt about it; I have a thing for oils. They work well with my hair no matter if it's curly or straight and they pack down to travel light – what else could you ask for? I've been through my fair share of oils and serums over the years working behind the chair and behind the computer. Always asking fellow stylists, friends and product junkies what they're using on my search for the next best thing.
While on the search, I am usually met with unusual brands from all over the world, new brands, and expensive price tags. On a recent trip to the salon, I had the opportunity to see one of the top stylists in the industry cut and style. Amidst his fancy shears and never-ending line up of curling irons what I noticed on his workstation was a familiar brand – an oil from L'Oreal, L'Oreal Professional Mythic Nourishing Oil. It was used on almost every client prior to blow-drying his or her hair into the effortless, smooth, shiny and silky straight finish. For this particular hairdresser, this is part of the process – he cuts hair dry so priming the perfect palate is key.
I immediately Googled this oil and added it to my must-have list. After years of trying out various brands and different types of oils, I was intrigued. *Spoiler Alert: Just go ahead and click here and order the oil now.
L'Oreal Professional Mythic Nourishing Oil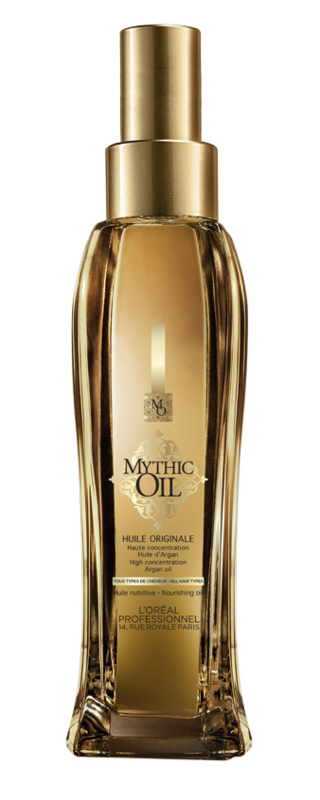 Eagerly awaiting the arrival, as soon as I got it I washed my hair just so I could give it a try. From the beautiful packaging to the glass bottle and the slippery feel of the formula as it coated my hair without appearing greasy, I knew I already loved it. Next up was the blow-dry test. Living in a humid climate with fine, curly hair, it's often a battle so I decided to give it a try with my paddle brush first. (I usually use this to remove moisture and straighten without tiring myself with a round brush battle.) The amazing thing was that I actually didn't need my round brush at all. My hair was instantly smoothed, not sticky or weighed down, just effortlessly gorgeous.
That is why I am naming this my absolute favorite product of the season, and possibly of the last 5 years. Seriously though, I've been telling everyone I love that will listen to buy this oil and try it out. So, because I love you all I am passing down this newfound wisdom. Go forth and blow-dry and reap the benefits of this life-changing oil!