No matter what the starting level or the desired finish, coloring hair to any degree begs the stylist and the client to be aware of the health of the hair. Above all other methods, highlighting with bleach can sometimes require a little extra TLC. From achieving the desired shade to taking care of hair at home, these are our top tips!
How Lighteners Work
Using bleach to lighten hair is a highly technical chemical process. Lighteners use a two-part process to first open the cuticle and then break apart the pigment within. During this process, disulfide protein bonds are also broken down, which can leave the hair in a vulnerable state. Using a product like Redken's Flash Lift Bonder Inside is a perfect way to protect those bonds and get the results you desire.
Post-Lightening
Lightening your hair to the desired shade could take a few sessions and maintaining a balanced tone between is key. There are a few (million) reasons why we love Redken Shades EQ but above all else, the ability to add color while conditioning is high on the list. And, with the release of the new Shades EQ level 10's, your brightest blondes now have 5 more ways to shine!
From creamy blonde to platinum perfection - choose between 10T, 10P, 10GI, 10VV, and 10N for a perfect finish.
Home-Care Tips
Although stylists can take the utmost care to lift properly with products designed to improve the integrity of the hair, oftentimes bleached hair still needs a helping hand. Before leaving the salon, be sure to pick up a few must-haves to help retain your color and improve the integrity of your hair. With lightening clients in mind, Redken created a revolutionary new system specifically for bleached hair - the NEW Redken Extreme Bleach Recovery System.
Start your home-care routine with Redken Extreme Bleach Recovery Shampoo - a reparative and strengthening formula created specifically for lightened or highlighted hair that hydrates and restores softness while fortifying strands.
Redken Extreme Bleach Recovery Shampoo
Next, apply Redken Extreme Bleach Recovery Lamellar Water - a rinse-out conditioning treatment that fills the porosity of your hair while providing instant smoothness and shine. Not only does it soften your hair it also aids in detangling stressed strands.
Redken Extreme Bleach Recovery Lamellar Water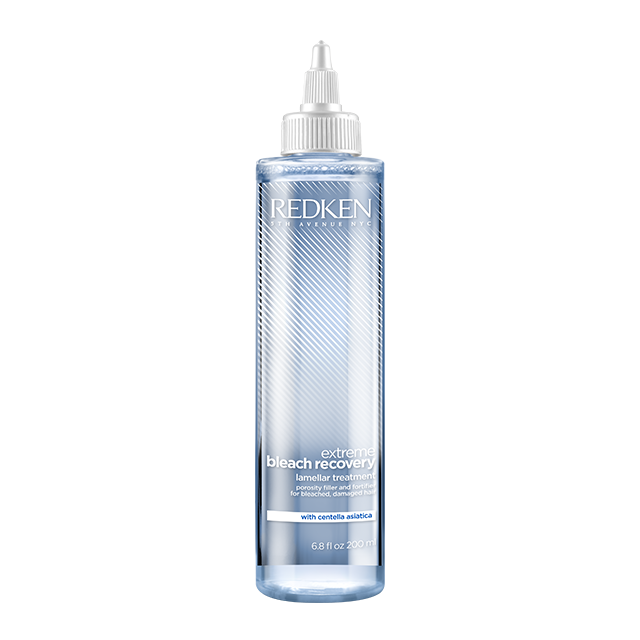 To finish, the Redken Extreme Bleach Recovery Cica Cream Leave-In Treatment is a must! Visibly reducing the appearance of split ends and aiding in softness and shine, it works to nourish the hair from the inside out giving off a smooth finish.
Redken Extreme Bleach Recovery Cica Cream Leave-In Treatment