While we may not be magicians, as stylists our shears are pretty close to magic wands. With them, we have the ability to sculpt and transform our canvas - carefully stacking hair and removing weight to give every client their #goalhair. In order to grow and maintain a flourishing clientele, you'll want to brush up on the latest techniques and invest in the right tools.
Shears of Choice
Every shear has its purpose. Not only do we use them more than nearly any other tool, but the return on investment is huge. Think of how long a great pair of scissors, maintained with proper sharpening can last you? The answer: at least a decade. So, how many cuts do you think you can do in ten years?
A few of our favorite shear choices: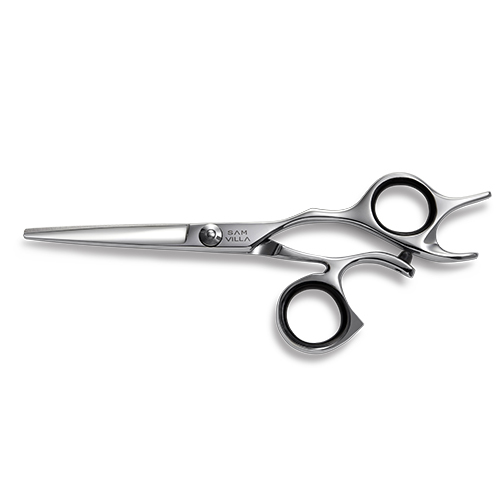 A 5.5-inch sheer is a great starting point and kit essential for any stylist. From one length cuts to layers to texturizing techniques (we will get to those later) this pair has you covered. With Sam Villa Professional's ergonomic design you also add longevity to your career by saving your joints some trouble.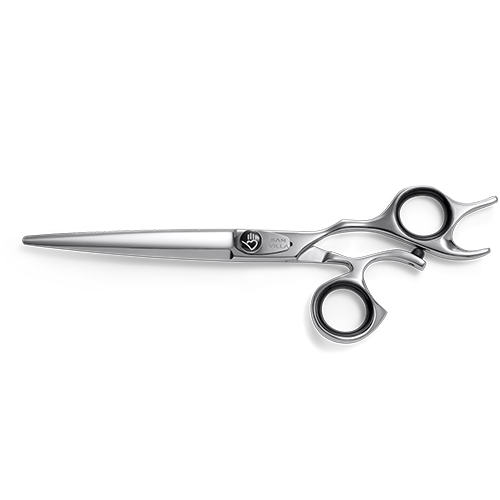 Longer Sheers are wonderful for one-length cuts. Think: precise bobs and lobs. They are also ideal for dry cutting techniques. Honed from hand and made from 100% Japanese Molybdenum Alloy, these shears are as precise as they are ergonomic.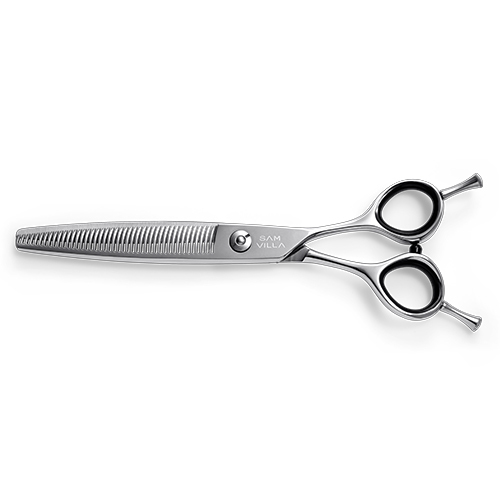 A great texturizing shear is a crucial component of any hairstylist's kit in order to accompany your foundational texturizing techniques. With 42 teeth, a reversible grip, the ability to eliminate blunt lines, extract weight, and control texture, this shear is a must-have staple in the salon.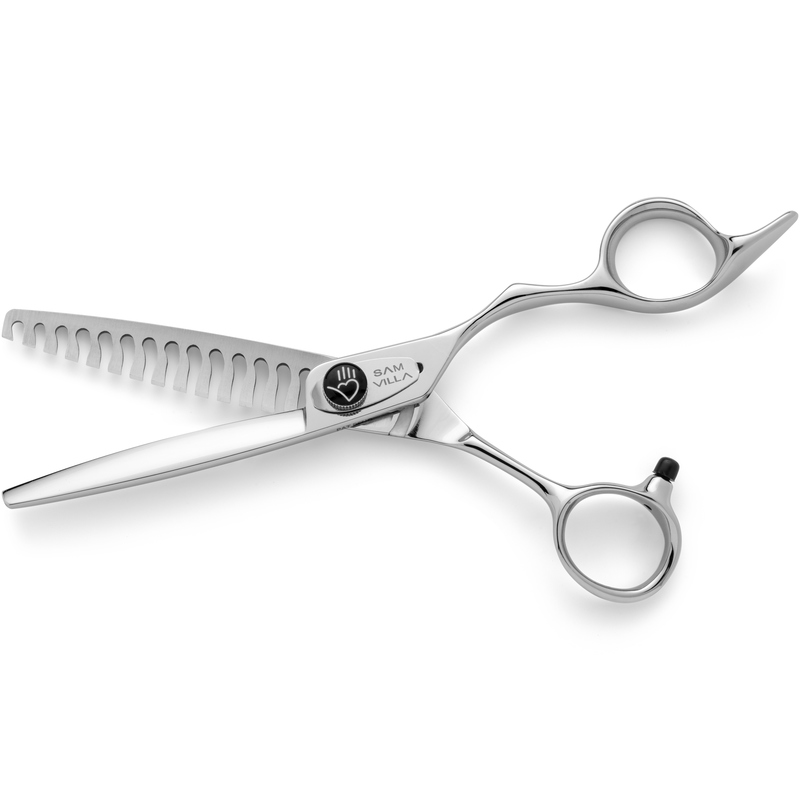 This new texturizing shear has the ability to produce natural-looking, perfect point cut texture, creating the look and texture of point cutting with separation and negative space without creating notches. They are designed with teeth on the top and the straight blade on the bottom, exactly the opposite of most blenders, allowing for better body positioning while cutting. And, the eradication of lines enables a stylist to make multiple cuts in a section for more aggressive texturizing and weight removal without worrying about leaving visible layers or weight marks.
"These shears will save you time on each haircut you do and create more consistent texture, they are a game-changer for express cutting services," says Sam Villa, Co-founder and Chief Creative Officer of Sam Villa and Global Artistic Ambassador for Redken.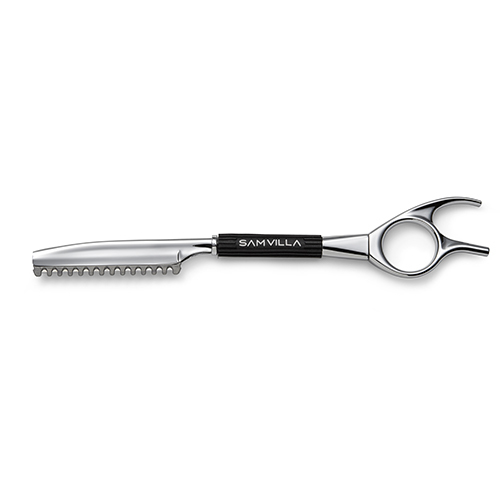 Not all cutting implements have to have two blades. Razors are a great alternative for blending and creating bold textures.
Tricks of the Trade
Now that you have the tools, we need the tricks. As with all texturizing techniques, avoid being too close to the scalp and pay attention to the natural texture and hair pattern of each client. When we texturize we add movement to the hair by removing weight and length in a variety of ways outside of standard blunt wet cut layers.
Slicing
Slicing is the act of sliding your scissors down the hair parallel to the hair shaft to create channels of texture. With each slide, we gradually close the scissors only removing the hair at the innermost corner of our blades. This is ideal for face-framing, bangs, or removing weight from the length of the hair. When done wet it will be less precise and remove more hair. When done dry it is a customizing detailing tool that works great for most hair types.
Stroking
Hair stroking is a back and forth motion on a section of hair combined with a gradual opening and closing of your blades. It is meant to remove interior weight to create seamless hidden layers. When used with higher tension fully closing the blades it can also be used to create feather lengths in a style. This is a great technique for blending extensions or haircuts,is best done on dry hair, and works for most hair types.
Razor work
Razor work is fantastic for creating texture and blending layers and graduations. The Razor should be held in your dominant hand and executed using a light c-shape movement to carve out the hair. It is best done on wet hair and reserved for textures that have less frizz.
Point Cutting
Point cutting is the act of using the tip of your shears to remove hair. This creates a softer line and more customizability by choosing where to cut deeper and where to remain more shallow. It can be used wet or dry and even in place of the traditional technique of cutting layers. It works for all hair types as it is the most customizable texturizing technique.
Whether stroking, razoring, slicing, or point cutting these techniques give you the ability to customize every cut for every client and raise your artistry to expert levels.