Thinking about growing our a beard, but not quite sure where to start? Although you might think that you should just retire your razor and clippers for a few weeks – that is not the way to do it! Growing out your beard gracefully requires a few quick tips to ensure you still look dapper.
Pick up a pair of scissors.
Sometimes you simply need to switch up your set of tools to get the right look. Clippers and razors tend to be the tools of the trade, however, picking up a pair of scissors could be the key to keeping your style in shape as you grow. Due to the fact that clippers and razors create a sharp edge, scissors are perfect because they allow you to get definition while keeping a soft transition. Opt for a small pair – similar to eyebrow scissors – they'll give you the most control.
Moisturize, moisturize, moisturize.
Now that you're growing hair in a new place, you'll need to not only moisturize your skin but your beard as well. Cleansing and conditioning your beard in the shower can help you beard look its best while following with a beard serum or oil will elevate your beard style to a new level. It is important to keep the skin underneath your new beard hydrated to keep beardruff (that's dandruff in your beard) at bay. Beard oil will also help hydrate your facial hair, keeping it shiny, smooth and controlled – it will be the difference between businessman and cave man.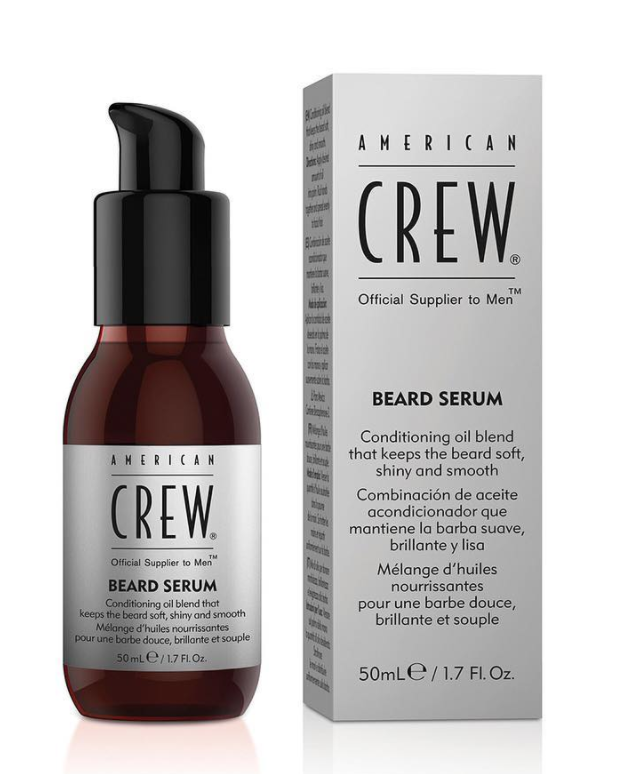 Seek out professional help.
Do you trim the back of your hair? (If the answer to that is yes, then we'll talk with you later.) Trimming your own beard is something you can do on the daily, to keep the general shape of it in control, however, you'll want to enlist the help of a professional now and again. Having your beard professionally trimmed means that your new beard 'do looks great from all angles, complementing your face shape and haircut. It is not something you can do yourself because you can't always see all angles evenly. Barbers can also see your hair patterns and movement to ensure an even style and great overall shape.
---
Looking for a new style? Speak with your stylist or barber – they know your hair the best. For more helpful styling tips, tricks and inspiration be sure to stalk American Crew on Bangstyle and check out their latest techniques on Instagram @AmericanCrew.