It's beautiful to see clients everywhere embracing their natural pattern. While they may be primarily wearing their hair wavy, curly or coily, many also want the ability to wear a smooth style as well. Apart from styling tricks, they'll need a haircut that can easily transition for either style.
"Over 65% of the global population identifies with having textured hair, curls, coils, and/or waves. It's important for us as licensed professionals to be able to service these guests and provide solutions to the challenges they naturally have based on their hair texture," say,s Ashley Brown, Sam Villa Ambassador and Mizani Artist @ash_hairbarbie
Straying away from classic curl cutting techniques, you'll want to create a foundation that allows for versatility. "The Mizani Aircut allows them to transition from their natural curly, coily or wavy hair to smoother blown-out looks with ease," explains Brown. Watch her explain the Aircut, a solution-based curl cutting technique on the latest Facebook Live for Sam Viila Weekly LIVE Education and pick up a few of her top tips below.
The Mizani Aircut Method:
Knowing how to cut hair of all textures is the goal for most stylists. The Aircut Method uses 5 glides to create "air in the hair" which easily allows for the hair to be worn curly or straight. Each texture type has different needs, the science behind these needs, and the density of the hair is assessed before moving forward with the Aircut. Creating pockets of air allows the guest to get maximum volume and movement without having to use an abundance of products to create it. This is done by cutting the hair in its natural state, no tension, no over manipulating, and using glide techniques to put these pockets of air in specific areas that have a tendency to lack volume and/or movement.
*Pro-tip: Consider keeping a "cut card." This allows stylists to recreate the cut each time, and/or adjust it according to the needs of the guest. The beauty of this technique is it not only empowers the stylist to cut with confidence and celebrate texture, it also allows guests to manage and style their hair much easier as well.
The Cut
Dividing hair into 7 zones provides a strong re-creatable foundation. Using Sam Villa Dry Sectioning Clips makes it a cinch to section the hair to execute the cut effortlessly.
Applying Mizani 25 Miracle Milk, a lightweight leave-in detangler, to naturally air-dried hair helps manage texture, makes cross-checking easier and provides an undisrupted visual of the true texture of the hair while cutting.
Various glide and linear cutting techniques are used to remove weight and transform texture. A curved shear or longer straight shear like the Sam Villa Signature Series Dry Cutting Shear 7" can be used.
Wash N' Go
The Mizani True Textures line of products are ideal for styling and supporting all curls, coils, and waves, especially when paired with a Sam Villa Light Professional Ionic Blow Dryer with deep bowl diffuser, it's powerful, yet keeps texture intact.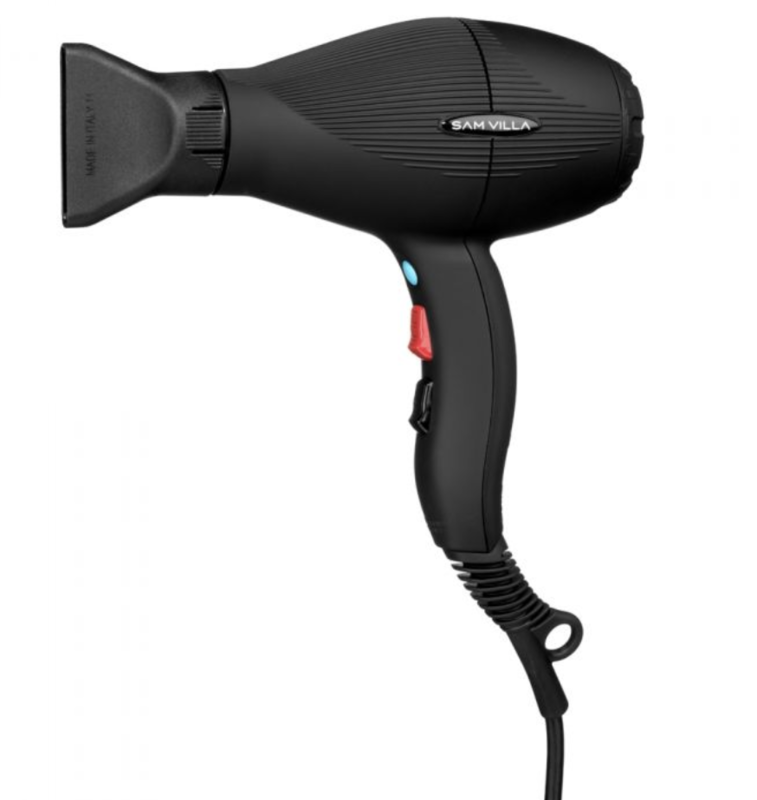 Blow-Dry
Be sure to tune in each week for even more FREE live education from Sam Villa!