Clients are looking to shed their winter style routine and embrace new hues this spring and summer. While many embraced cozy fall and winter colors, this season it's all about making a bold and shiny statement. With an abundance of inspiration, Wella Professionals Brand Ambassadors Briana Cisneros and Dereq Clark have highlighted some of the top hair color trends. Read on to learn about what their forecasting and the Wella Professionals Shinefinity shades to get the look.
The Color Trends:

We've seen Audrina Patridge debut a variety of pink shades, but this spring Bruana Cisneros has added a bold finish with a bubble gum pink hue. "This shade is such a fun change and a safer one at that because as your pink fades it leaves a beautifully balanced tone to your blonde." Says Cisneros. Craving a shade like Audrina's? To show you exactly how to get the look, Cisneros recreated how to get the tone here.

Around spring we see an uptick in requests for pastel shades and "soft baby blue can be such a statement while maintaining a soft approachable feel," says Cisneros. While the upkeep for a shade like this would normally be a challenge to most, Wella Professionals Color Fresh Masks allows stylists to create gorgeous shades in the salon and send clients home with an easy and effortless way to keep their color.

Season after season, blonde shades have tended to air on the cool side, the icier the better. However, 2022 has already seen an influx of trends geared toward warmer hues and with blonde shades we'll see this play out with vanilla cream blondes. Welcoming warmer, gold tones, "at the end of the day skin tone and personal style rules all and doing what you feel best in is ultimately what is going to make you shine!," adds Cisneros.


Brunette shades will take on cool tones with a golden finish. Clark created this gorgeous cool brunette by pre-lightening with a balayage application and suggests Shinefinity to finish! What we love most about this trend is the sublime shine created by Shinefinity.
Formula: Shinefinity 09/02 and Shinefinity 06/02

Pulling inspiration from a classic design, stylists this season have warmed up brunette shades with a touch of gold. This iconic look created by Wella Professionals Brand Ambassador Patricia Nikole (@paintedhair) on Lucy Hale is a fresh take on a classic hue. An ideal shade for anyone looking for a light and bright look without appearing "blonde," this is an ideal middle ground shade and Shinefinity ensures a shiny, glossy finish for a luxurious feel.
Briana sees Shinefinity as the perfect partner for quick corrective changes or adding fun tones to the hair. Due to the fact that these formulas are zero lift and zero damage, Shinefinity keeps the hair's natural quality intact so that once the tone gradually fades out your client is left with healthy, shiny hair. "No matter what, healthy hair is always the goal!" Says Cisneros. "Shiny beautiful locks will always be youthful, style the easiest, and be the most attention-grabbing, which is why I really think Shinefinity is going to be one of the hero products used amongst professionals," she adds.
Getting down to the details, Clark loves using Shinefinity to create trend-forward shades because it is extremely gentle on the hair and adds a much-needed shine that you can feel. "I love how the new pH-balanced technology that regulates the color pH level to a controlled range throughout the coloring process. This is great for textured hair that tends to naturally be on the more porous side.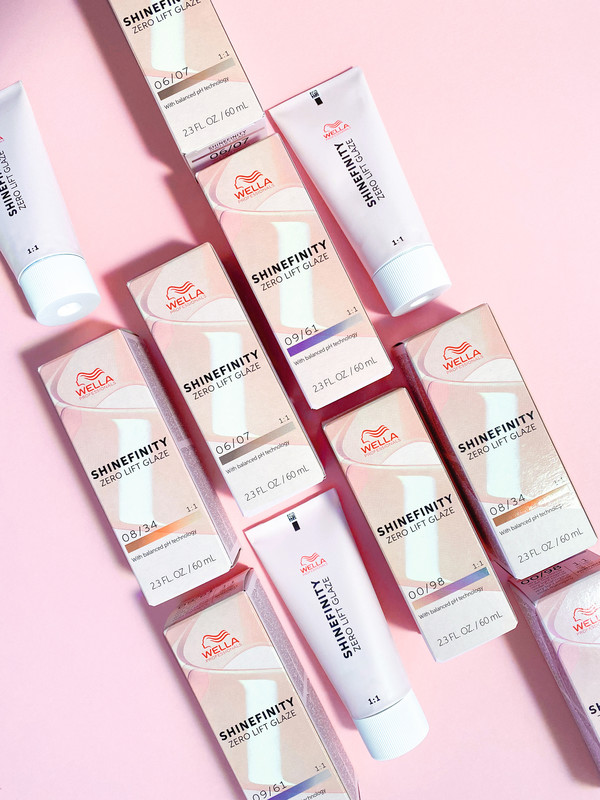 What Clients Should Ask For:
During any service, clients should ask their stylist about the new Shinefinity glaze. With a range of shades that can be used with a variety of services — from balayage to cutting and styling appointments — Shinefinity smooths the cuticle for healthy-looking hair. Clark loves that these shades that last up to 6 weeks and require little to no commitment, which makes them ideal for his clients that like to try new true-to-tone colors each season for a shine you can feel.