Classically Miu Miu, Miuccia Prada put on a show to inspire the masses. With tensions high, she reinstates the notion of dressing to the nines to lift the spirits of women all over the world. It was a pastel palette of abundant faux-fur melted into bright hues and elegant patterns with '70s flair. Knits, furs, sequins and slips – fabrics were soft and shapes even softer. It was anything but understated and echoed glam at every angle. With mixed patterns, textures, and baker-boy hats to boot - the hair was simple, sleek and sophisticated, everything they portrayed the modern woman to be.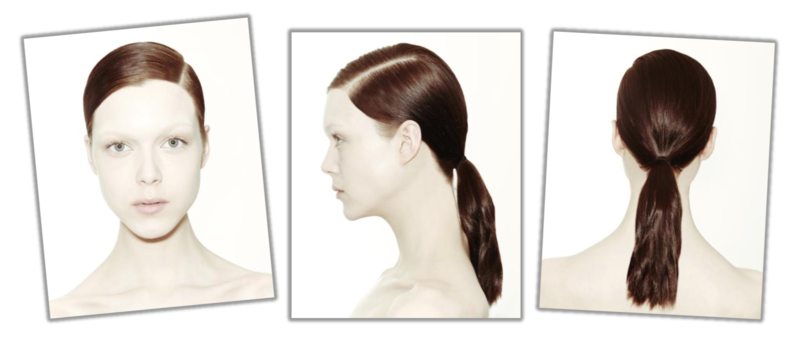 "We're here at the Miu Miu show, our last show of the season. It's a very simple side part. I'm using Satinwear 04 to blow the hair out so it's smooth with a great texture. Then, I'm pulling the hair into a low ponytail with a touch of hairspray for hold. There are a lot of hats and tiaras seen at this show, and the hairstyle really complements this look." – Guido
GET THE LOOK
Create a clean side part using a wide-toothed comb. 

Prep hair by applying a dime-sized amount (depending on hair thickness) of Redken Satinwear 04 throughout the lengths and ends. 

Blow dry hair to achieve a smooth and shiny texture. 

With a boar bristle brush, pull the hair into a low ponytail and secure it with a black elastic. Use fingers to ensure that the hair line is square and clean.
For a light hold, finish with a spritz of Redken Fashion Work 12 Hairspray to clean up the baby hair around the face. 

Use a curling iron to curl a few random pieces in the ponytail to give a slight texture to the length. 

   Be sure to stalk Redken on Bangstyle and check out their hair inspiration from Fashion Week's all over the world!