Balayage continues to be one of the top services in the salon. With the client's appreciating the low-maintenance nature of the technique and the ability to create more natural-looking results, this movement isn't going anywhere. One of our favorite ways to use this placement technique? With blondes — from platinum to honey, ash or strawberry! How can you be sure you're getting the shade you desire? Read on for a few of our favorite tips and learn why Shades EQ Bonder Inside is the key to your best blonde!
The Top Balayage Tips for Blonde Hair
Clarify First
A day or two before your client is set to come in for balayage, ask them to thoroughly cleanse their hair. Ask them to use a clarifying shampoo formula or double cleanse and allow the hair to dry naturally without product. This ensures that once they are in your chair, their hair is fresh and ready to be lifted.
Aim for Results Over Time
If your client is looking for a drastic transformation in one sitting, balayage isn't always the way to go. While generous results can be created in one sitting, the goal of balayage is to create a natural lived-in look that is less contrasting than the one you might achieve with foils. Prior to the appointment, you should discuss common goals during the consultation to ensure you're both on the same page. The benefit to balayage, especially for blonde hair is that it achieves beautiful results and keeps them looking their best time after time. The biggest downfall to blonde highlights is usually the apparent grow-out that occurs a few weeks after highlights, which is why balayage aims to bridge this gap and allow for a softer transition with less upkeep.
Fib with Foil
There are certain hair types or base levels that will need a little extra oomph. Some shades tend to pull warm or take more time to lift, which is where foil can come in handy. You can still utilize a hand-painted technique and then place these sections in a foil to help them lift. The result will still be a soft transition, however, the foil can help lighten stubborn shades with ease.
Keep It Tidy
Whether fibbing with foil or creating a truly open-air technique, it can be a great idea to safeguard sections with either cotton or balayage film (a clear protective barrier) that keeps sections tidy while also easily allowing you to keep an eye on the developing time. Also, keep an eye on sections and subsections, and the thickness of your strokes. Due to the ability to easily notice details, blonde balayage typically benefits from "skinny" application strokes.
The Perfect Finish
No color service would be complete without the addition of Shades EQ Bonder Inside. With the ability to add shine, condition, perfect tone and bond repair, Shades EQ Bonder Inside is a must-have glossing service for every blonde balayage. With Shades EQ Bonder Inside available your balayage blondes are sure to be taken care of! The beautiful thing about Shades EQ Bonder Inside is its ability to strengthen sensitized hair, which is usually the case when it comes to blonde clients. Once lightener is rinsed, there is a high level of alkalinity left behind causing damage to disulfide bonds, which leaves the hair in a vulnerable state. As an all-in-one toner + bonder, Shades EQ Bonder Inside allows the stylist to strengthen the hair and tone, in one step.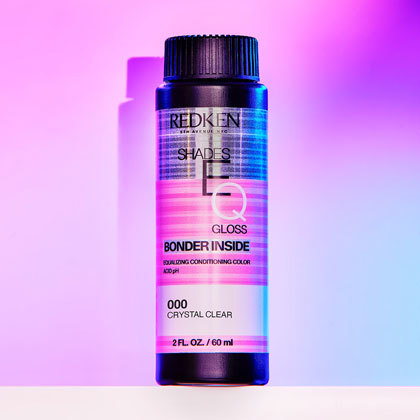 Citric Acid and Taurine are the hero ingredients to add strength in this pre-dosed formula that creates the same consistent results Shades EQ is best known for. If you're looking to perfect tone for your balayage blonde clients while also strengthening hair from the inside out, always finish with Shades EQ Bonder Inside!