While balayage has been around for quite some time, its popularity rose through the rise of blogging, vlogging, and ultimately Instagram. Beauty buzz words were no longer reserved just for the salon, as consumers began embracing them in everyday conversations. And while many trends have a short lifecycle, balayage is a technique that can be built upon leading the way to other creative applications within colour.
Looking at our latest inspirational education collection - RADIANT FLUX - you'll notice an array of techniques that address the shift between light and shadow. Colours are applied in a way that can shape a haircut and frame a face - all while giving off the appearance of natural colour and growth. Here, we're detailing some of the latest colour techniques beyond balayage and how they'll help enhance colour behind the chair. And, be sure to tune into KM.TV for daily education and inspiration!
Contouring a.k.a. the "face-frame"
If your client is looking for a quick and easy way to brighten up their overall look, contouring or "face-framing" is the best technique to utilise. This can especially be a great choice for grey coverage clients who can't commit to regular highlights. Using a combination of highlighting and freehand applications, you can place various tones around the face to add depth or create light where needed. 
Hairline illumination
We absolutely love this technique, which can easily be applied at the shampoo basin. Essentially what you are doing is slightly lifting the baby hairs around the hairline to blend and create instant illumination for your client. In the tutorial seen here, COLOR.ME Design Director Kate Reid illustrates the technique on a blonde client, however, variations can easily be tailored to your client's colour needs!
Illuminating
As hair colours shift from high contrast to more overall shades, it is important to note that illumination will be key to creating a natural finish. Illuminating is the process of lightening specific areas to create focal points that will brighten the overall finish. It is less about the obvious placement of highlights and more about creating interest and depth within a similar colour family. 
Shadowing
During lightening (especially with blondes), a common outcome is the lack of depth within your shade. When we speak of "shadowing" it is the process by which colourists add depth and dimension through deeper tones. These can often be slight variations, but the outcome is similar to adding illumination in darker shades - it adds interest and gradient within your colour. 
Refining/Toning
Refining refers to the application of colour to create a change without lightening the hair. This is often used to tone down brassy highlights or in darker colourations and lasts a few weeks depending on the hair type and porosity. With the latest launch - pH.D - colourists now have the ability to formulate no-lift, no-shift, deposit-only colours from all COLOR.ME SHADES, giving stylists endless options behind the chair. pH.D transforms oxidative colour into gentle acidic colourations. Use pH.D to refresh and refine lighter tones or to create darker colourations and grey blending! Learn more here.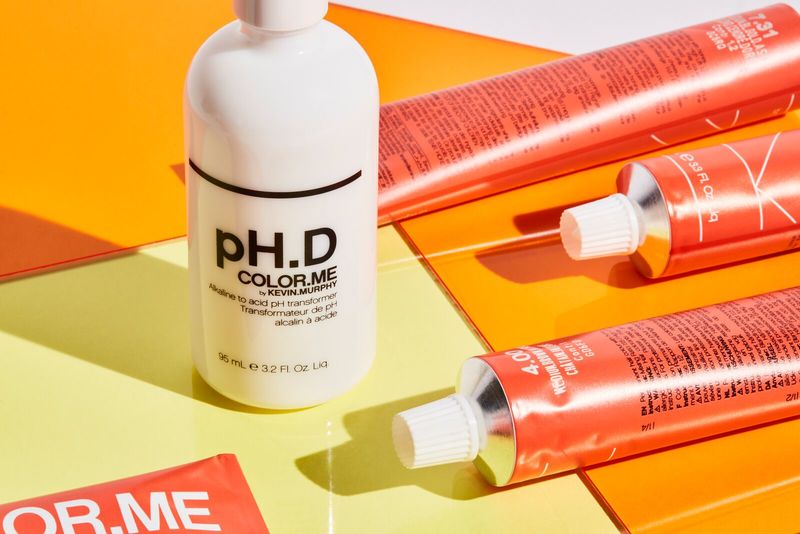 If you're looking for even more education, be sure to tune into KM.TV for daily inspiration!