Noticing your grays starting to peek through? You're not the only one counting down the days until you can see your colorist again, and, while the unforeseen salon hiatus has many of us desperate to find a way to cover those grays in the interim, it's important to stay calm. Ahead, our top tips for embracing your grays gracefully.
Tip #1: Repeat after us: Do not box dye
Yes, staying home may make you feel a little stir crazy, but that doesn't mean you should take it out on your strands. Many hair-related tasks are best left to the professionals, with hair color being at the top of that list. We know you're desperate, but the absolutely last thing you should do is run to the drugstore to pick up box color. Box dye can wreak havoc on your locks, not only causing major damage, but it can also be a pain to remove. Trust us, it's better to let a few grays peek through than to put your strands at risk. Learn more about that here!
Tip #2: Root spray is your friend
If you do feel the urge to cover up your grays with color, grab a root touch-up spray from the drugstore instead. Unlike box dye, root spray delivers a hint of temporary color that easily washes out. Look for a formula that best matches your base color, then apply a small amount of product anywhere you see grays. For best results, avoid spraying the product too close to your head and use light pressure when spraying to avoid oversaturation. Lastly, do not touch your hair as it dries--doing so can smudge your color.
Our Top Pick: KEVIN.MURPHY RETOUCH.ME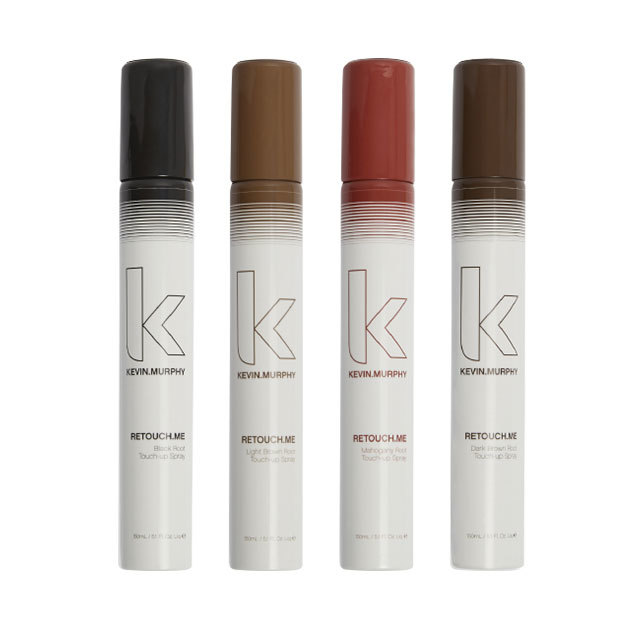 Tip #3: Play around with your part
Sometimes concealing your grays is as simple as switching up your part. Typically a middle part devotee? Opt for a deep side part instead. Or, if you typically pull your hair back when wearing a ponytail, try creating a small center part, then style your pony while leaving the part intact.
Another foolproof way to hide grays? Throw on a cute headband, hat or headscarf. Your roots will be covered and all of the attention will go to your accessory of choice, rather than any noticeable gray hairs.
Tip #5: Let it go
Sometimes it's best to accept the things that you cannot change, at least for the moment. Since you're spending most of your days at home, it's an ideal time to see if rocking your natural strands is something you can grow to love. You'd be surprised: You may get used to the low-maintenance style and find your new look surprisingly empowering. Want even more inspiration? With all your downtime, search the hashtags #grombe and #gogrombe – or learn more about it here! You'll find thousands of women of all ages embracing their grays. Follow their lead, at least temporarily, and enjoy the process-- you can always go back to your colorist eventually!