Artistic minds are always looking for new ways to create. I was excited when fellow hairstylist Ashley Flora phoned me looking to collaborate on a shoot so we started rounding up the troops.
Photographer Jacob Roberts returned to Louisville, KY from Nashville, TN. I booked makeup and special effect artist, Matt Goodlet and editorial makeup artist, Anastasia Skye Gerde. Our photographer's girlfriend, Hayley Fawn Hall (who is also an amazing photographer), styled the shoot and I did an open model call and booked four models. 
It was like old times, when Flora and I would constantly work on editorials a few years back. Although this time we had more models and other artists to partake in our creative endeavor. We just had an absolute blast. We turned up the music and brought tons of food for everyone. Since we had four models everyone had a muse to work on at the same time. I love doing shoots; the time to experiment and build on the skills that one already possesses creating synergy between everyone involved. 
For this shoot, I wanted to play with texture, braids, and volume. It was fun to incorporate visible hair pins and hair nets to adorn the hairstyles I created. I used Redken Braid Aid 03, Guts 10 and Fashion Works 12. I loved how everyone's work paired well. – Matthew Tyldesley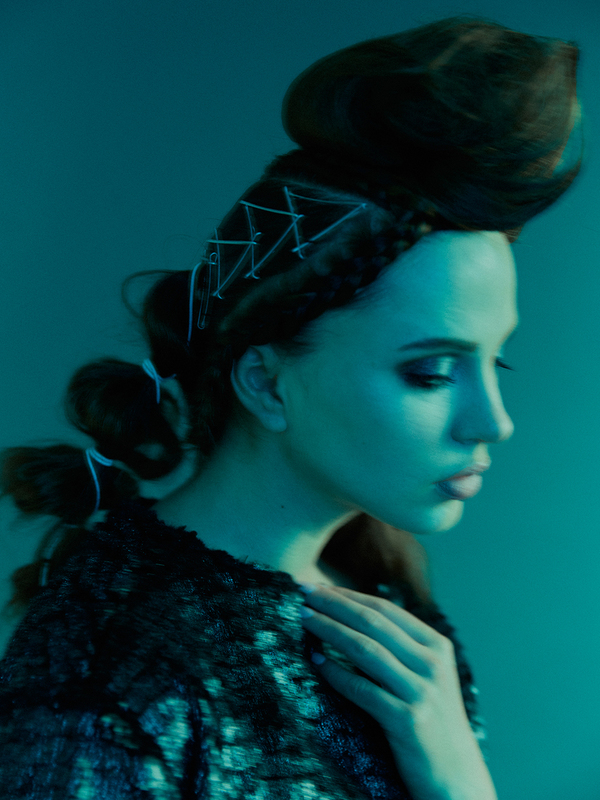 When collaborating with Matthew and Jacob I had a moody vibe in mind. Also, I wanted to utilize the inspirations from the past year into the result. I feel my hair game has become stronger and more planned out now, so I wanted to show this. This collaboration was inspired work from a good friend of mine combined with trying different things to create different effects and texture in the hair. 
The past year I've experienced a variety of moods, hence the moody theme. It was my chance to work through all the change, personal heartbreak, positive vibes, extreme hard work and more. The wardrobe was inspired by my time spent living in NYC, hence all the black. The fashion is also extremely high paced up there (which I miss)! That is one thing I'll be keeping up with it no matter where I am. 
This really got me excited to do more creative shoots on my own time.  – Ashley Flora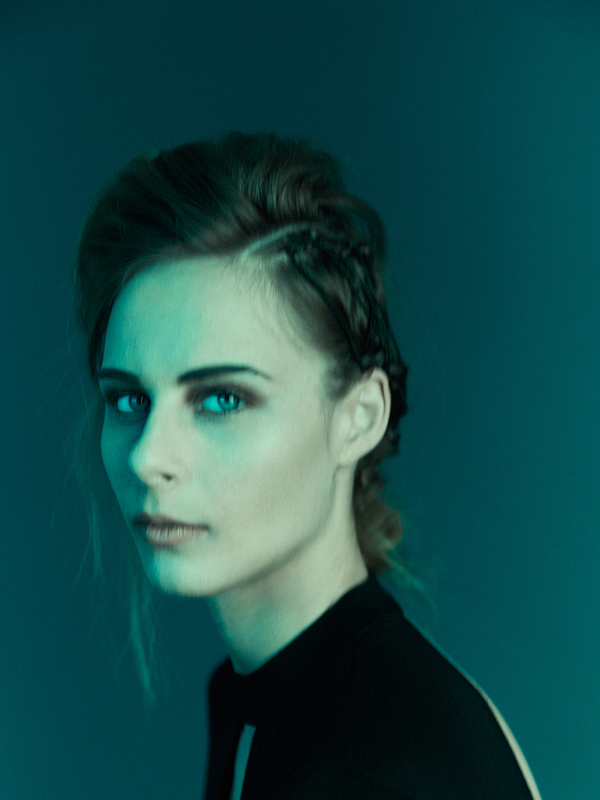 The goal for this shoot was to focus on creating a dark & moody overall look. We used soft light and somewhat monochromatic color to minimize distractions and emphasize the overall form of the hair within the images. We all had a lot of fun with this shoot and the entire team did an amazing job collaborating to create unique, but consistent looks that all paired well together. – Jacob Roberts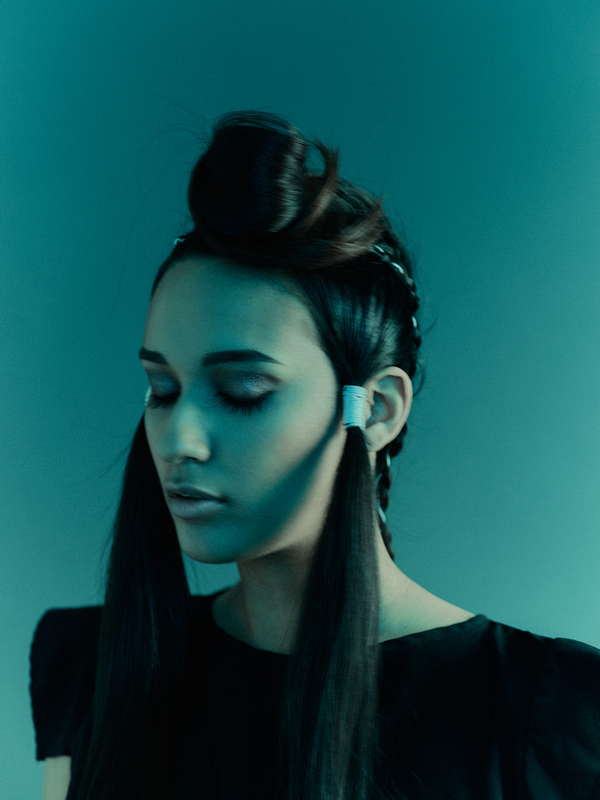 The day we shot this I was already scheduled to do two full body paints for a big event in town. With those taking up most of my day I decided I wasn't going to take on anymore work that day so I could focus. When Matthew asked me and told me about the team that would be involved, I couldn't say no. I decided I would just commit to living on coffee and Red Bull. 
We were going for a very moody look, soft but smoky.  Working with some familiar faces I was able to get done fairly quickly. I usually like to stay for the shoot but I had to head across town to set up. I knew Jacob would knock it out of the park and Matthew and Ashley killed it on hair. When I saw the images I was blown away. – Matt Goodlet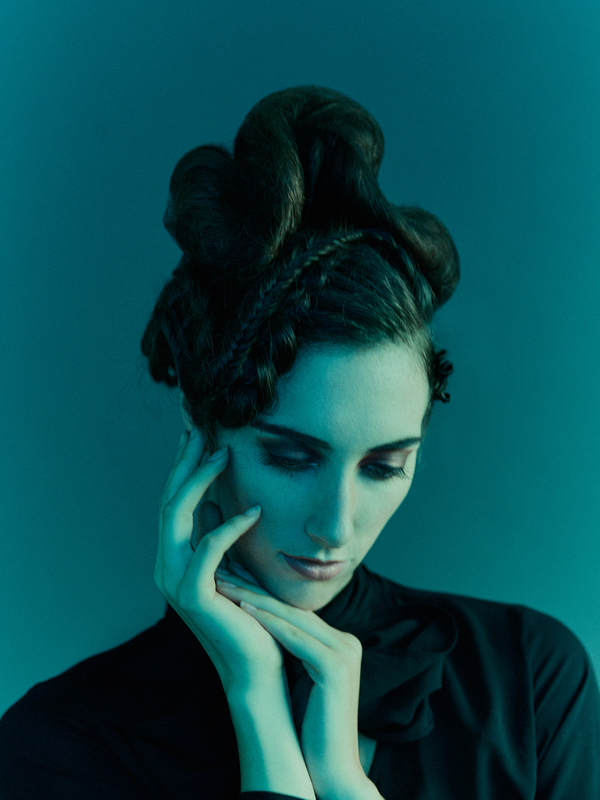 Working on this project was an amazing experience. I have known makeup artist Matt Goodlett for years, and admired Jacobs work from a distance. When I responded to the model call, I could already tell from the participants alone how amazing this shoot was going to be. Although Matt is the only artist I had worked with in previous years, I was familiar with everyone else through social media, so it felt natural and comfortable working with the team. Everyone was a lot of fun, and brought their personality into the final product. My favorite part of this project was seeing Jacobs artistic mind at work. He would take a shot and we'd see it right away on the laptop. With just a few swift changes and movements he'd take another shot and the impact it made on the outcome was amazing. I was trying to evoke a feeling of artistry from this collection. It's supposed to make the viewer feel and think in a simple, yet ominous way.  –Karoline Jane Hix
I think we all worked really well as a team. Everyone collaborated and it was a fun easy-going time. My favorite shot of the whole set was Margarita. The way the shiny triangles popped was awesome. I believe we were trying to evoke a moody warrior type feel. Everyone's hair and makeup really played well with each other. Women's trends are constantly changing and evolving and I am seeing a lot of natural hair on trend as of late. My favorite styling product of the day would have to be the brush the takes away static. You turn it on run it through and bam, frizz is gone. – Samantha Roman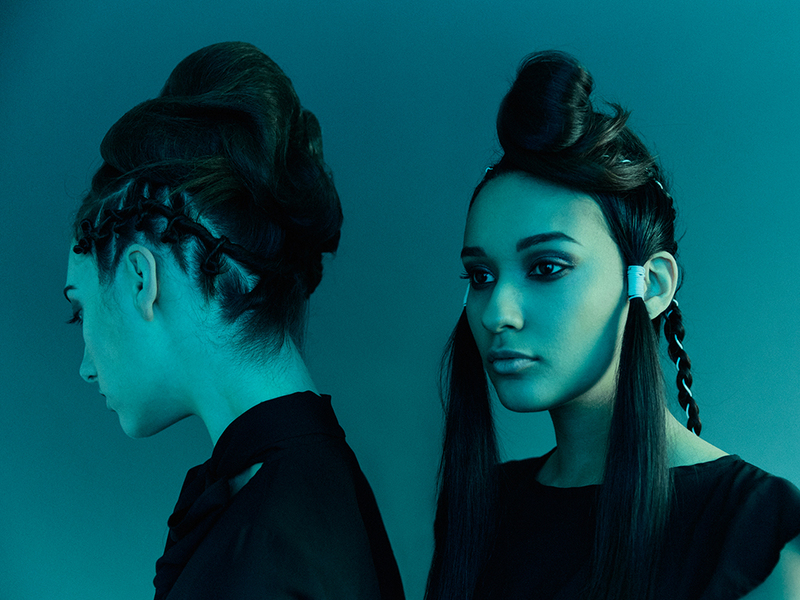 In the past there were short haircuts, then "beehives", then teasing and hairspray, perms and crimping... you had to follow certain trends or, well, you weren't trendy. I feel like today, the absence of trend is what makes a woman's style truly unique. We have an absolute freedom to express our own personal style without following any rules (wait, are there rules?), more than ever - now THAT'S trendy. My favorite part of every shoot is connecting to the team, getting to know each other and finding unexpected relations. For instance, during this shoot I learned that me and another model, Karoline, lived in the same town in Germany at the same time - years ago! – Margarita Karižskaja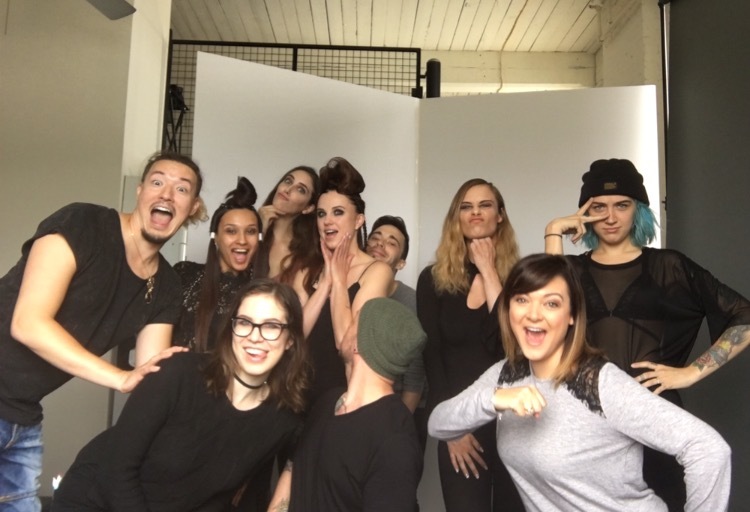 ---
For even more hair inspiration be sure to stalk Matthew Tyldesley and Ashley Flora on Bangstyle and check out the latest Redken features, here!
CREDITS:
Hair: Redken Artist, Matthew Tyldesley
Hair: Redken Artist, Ashley Flora 
Makeup Artist\Special Effects: Matt Goodlet
Editorial and NYC Makeup Artist: Anastasia Skye Gerder
Photographer: Award Winning Jacob Roberts