The 2019 Met Gala, themed "Camp: Notes On Fashion," set the bar high when it came to making an entrance. While artists like Lady Gaga made a splash, other starlets took on a subtle approach that had just as much impact.
From donning extravagant outfits to changing up their hair colour, anything goes when it comes to the Red Carpet at the Met Gala. While some starlets wore wigs and literal over-the-top headpieces, some chose a wash of colour instead! This year, Bohemian Rhapsody star Lucy Boynton turned heads as she floated down the carpet in her Prada dress and JADE hair to match. 
We chatted with COLOR.ME Design Director Kate Reid about the shade. "This month at KEVIN.MURPHY we launched our new JADE toner – a pastel shade that lasts around 4 weeks," Reid explains.  "The great thing about this shade is that it will wash completely out, returning hair back to a beautiful blonde. Making it an ideal choice for individuals who love fast fashion and want a trendy look without the commitment."
For picking the exact depth, Reid explains, "Paler and sheerer renditions of Jade, peppermint or spearmint work great on neutral to cooler skin tones, while more opaque versions can be personalised for deeper skin tones."
Lucy Boynton shows us how and absolutely rocks this whimsical feminine look at the Met Gala and Kate Reid shows us just how to get the shade!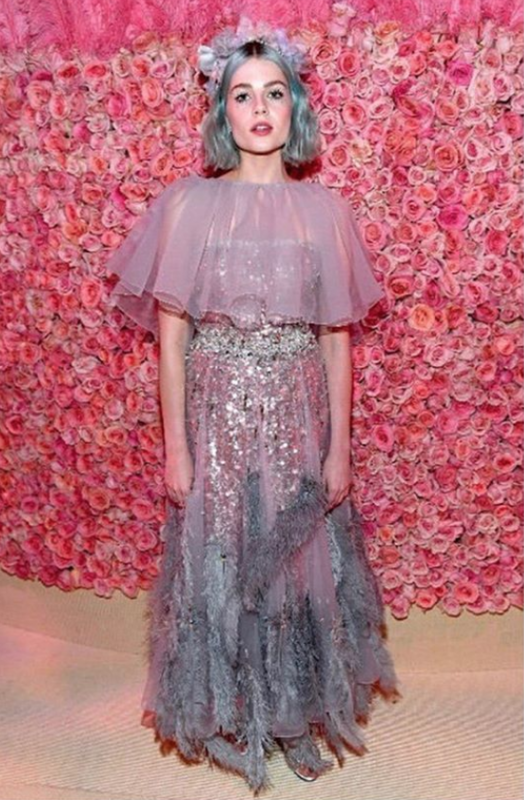 Image: @lucyboynton1
Get The Shade:
Step 1: Prep by washing pre-lightened blonde hair
Step 2: Apply 15g JADE + 9g NATURAL + 6g BEIGE+ 3.5 VOL. (1%)
Step 3: Visually develop to achieve your desired result
Step 4: Rinse and apply the COLOR.ME Finishing Regimen
Step 5: Apply HEATED.DEFENSE to protect from heat styling and style as desired
---
For fashion-forward colour and style inspiration be sure to visit us on Instagram, Facebook, Twitter, and Bangstyle and to see all the specials, be sure to visit the KEVIN.MURPHY store!