The post-summer blues are a real thing, and when it comes to hair – so is post-summer brass. Most clients love going lighter for the summer, which involves a series of highlight and toning appointments to keep shades looking bright. Once the summer sun starts to fade, clients will start to notice how brassy their shade looks post-summer. Lucky for them, violet is trending this season and for more reasons than just what we've seen walking down the runways.
Violet is the key to getting the ultimate balanced tone, here's why. If you take a look at colour theory, it shows us that opposites do in fact attract. Violet, being on the opposite side of yellow, means that they cancel each other out. Therefore, applying violet to orange tones leaves behind a neutral shade. This can be done in the salon with the use of KEVIN.MURPHY's VIOLET.ASH series and continued with home care with BLONDE.ANGEL WASH and TREATMENT and SHIMMER.ME.BLONDE treatment spray.
Take a peek at our top violet picks this season and learn how to add them to your routine.
VIOLET ASH
For levels 8 and above, the VIOLET.ASH series is every stylist's BFF. With the ability to cancel out brassy tones for an effortlessly neutral shade, it is exactly what every client needs post-summer.
BLONDE.ANGEL WASH // TREATMENT
BLONDE.ANGEL.WASH and treatment have long been a client favourite. Not only does the WASH formula deposit lavender shades to colour-treated and lightened hair, but the treatment also moisturises blonde shades, restoring them to optimal condition for the perfect finished style. If your client is looking for alternate colour options, COLOURING.ANGELS is the secret to gorgeous colour with a lip gloss-like shine.
SHIMMER.ME BLONDE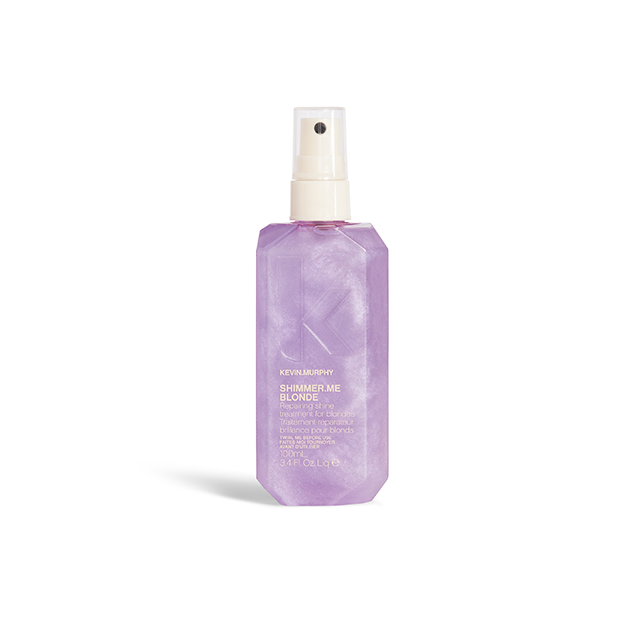 Using light-reflecting technology, SHIMMER.ME BLONDE is a treatment containing Essential Fatty Acids from Baobab and Babassu Oil, as well as Amino Acids and Vitamins to care for strands and shades equally.
Proof that, all it takes to turn around post-summer hair is a little bit of lavender!
---
For fashion-forward colour and style inspiration be sure to visit us on Instagram, Facebook, Twitter, and Bangstyle and to see all the specials, be sure to visit the KEVIN.MURPHY store!