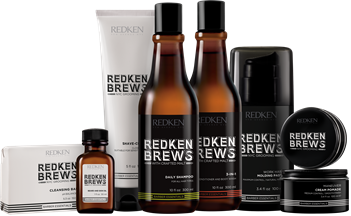 Most guys opt for a no-frills approach when it comes to grooming. Their beer selection, on the other hand, is a different story. From stout to pale ale, guys definitely have a preference when it comes to their drink of choice. Redken has combined the best of both worlds for its latest offerings. Enter: Redken Brews. Inspired by handcrafted beer, this men's grooming line features all of the essentials, including hair care, skin solutions and color formulas designed specifically for guys in mind. Read on to find out why Redken Brews are bound to be your go-to products in 2018.
What It Is: The Redken Brews range is a modern take on men's grooming. This all-encompassing line features a variety of products to achieve any type of look. From malt-infused stylers to shaving products to shampoos, there's a brew for every guy out there. The best part? Thanks to straight-to-the-point product names, such as Redken Brews Holding Gel and Redken Brews Fiber Cream, you'll be able to decipher which products will fit your needs.
Why You'll Love It: This line has a solution for everything, including a no-fuss approach to hair color. The Redken Brews Color Camo hides gray hair in five minutes—no foiling required.
And, if easy-to-use formulas aren't enough, the beer bottle-inspired shampoos and conditioners and super-sleek, the masculine packaging is sure to garner your attention, instantly making this product range a mainstay on your bathroom counter for the year ahead.
---
Want to see even more men's grooming tips and tricks? Be sure to stalk Redken on Bangstyle, check out their latest tutorials and follow them on Instagram @Redken for daily updates!