While he may take a stroll down the Rue De Seine for inspiration in Paris, catch up with friends in London or grab Italian food while in Milan, Redken Global Creative Director Guido Palau keeps his adventures simple while heading up fashion weeks across the globe.
He starts his day with P&G tea. No matter what his call time is – he makes sure his morning routine is met with great care. It is how he prepares himself for the creativity of the day that is to come. His humble soul and innovative nature shine through – even over the phone – in a way that has you craving to learn more about the person behind some of the most iconic looks of our time. Although – self-proclaimed, he would never fully take credit for starting street styles – his vision is a thing of humble beauty.
Guido Palau believes that more than anything else we are living in a time of inclusivity – which is also the single word he would use to describe the SS20 fashion season. "It is all about diversion and inclusivity, which is a positive ongoing journey for the industry". Our current world is stirring up a "consciousness of fashion," as Palau puts it, with new ideas surrounding "new beauty" the fashion industry is on board and widely diverse, perhaps more than any other industry today. The aesthetic is moving away from an archetypal look with styles of every length – diverse and individual – instead of trying to comply with some old idea of beauty.
Drawing on the classics – each year fashion weeks all over the world seem to draw on vintages past. This season, the 20s shined at Prada, the 40s at MIU MIU, and the 90s at Givenchy. Looking at the visionary creations Redken Global Creative Director Guido Palau makes each season during the shows, we're left wondering what the style of "now" is and how it might be described one day. Palau agrees that "there is a major revolution within the industry and this time will be looked upon as a beauty revolution." He adds that, even though hairdressers are recreating techniques from the '20s, they are doing it with modern hands, tools, and products, which makes it a style all its own."
Movements
The runway allows for endless amounts of inspiration that finds its way into salons and on the radar of clients everywhere. While some ebb and flow with each changing trend, there is something about finding your own "true beauty" and embracing it. On the topic of finding a signature style, "there is much fear attached to what you're comfortable with," says Palau. "Sometimes you have to take a leap of faith and find courage in truth. When you're truly comfortable in yourself, your beauty will shine." To create a truly successful look you must "tap into your clients, chat with them and discover something about them you can bring out in their hair to make a style more them."
Working With Redken
Guido Palau has long had a successful career within the industry and for much of his time, he has been lucky to work with Redken for many years. He attributes his success to their supportive nature in his vision in hair. He has always had an artistic eye and often times it is hard to find a fit with a big company. Redken has been understanding of it while also teaching him how to conceptualize his work and rechannel it into a commercial feel. Backstage, they've had great fun together not only transforming styles from the runway to salon-friendly versions but also creating new products to get the style. If Redken sees him mixing two of their products backstage, they are quick to capitalize on creating a new one from his creations. Palau feels ultimately supported by Redken in every way and couldn't ask for a better brand collaboration.
To take a peek into his creativity and his influence, check out Redken Global Creative Director Guido Palau's wrap up from the SS20 season.
The Themes:
TIME TRAVEL
"I love seeing all the time periods being referenced during this season. For example, Marc Jacobs was a collection of individual styles, Prada had a nod to the 20s, Tory Burch had nods to the 40s and 80s, and Miu Miu had a 40s punk energy." — Guido Palau
Seen At: Alexander McQueen, Miu Miu, Tory Burch, Marc Jacobs
Featured Look: ALEXANDER McQUEEN
"We're backstage at Alexander McQueen. McQueen looks always have a touch of romance—always beautiful, always with a touch of British sensibility. I was inspired by pirates and the high seas, with a small braid in the front inspired by Adam and the Ants, who often wore a similar look. I've finished off the braids with a gold ribbon wrapped around them, which gives a slightly Victorian vibe. My key product for this look was Guts 10, which I slathered heavily into each section to give it a product-y feel, which helps to form the braids. I finished with a few spritzes of Shine Flash 02 to reignite the look and give it a high-shine, wet look."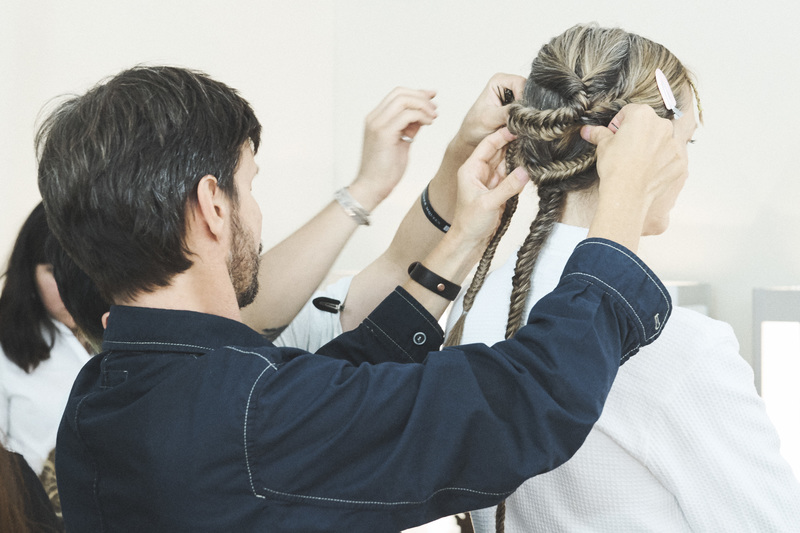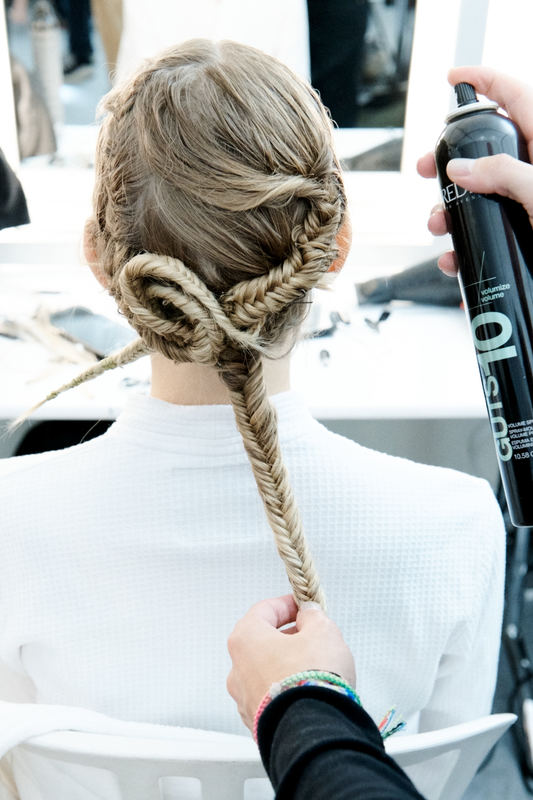 MIND-BLOWING
"I think the blowout never goes away. Ralph Lauren always has a classic idea of beauty, but it's one that women really love. Blowouts have such a great feel-good factor to them, and it feels great to get one done at the salon or to do one at home to get that great feeling in your hair, with the great shine a blowout provides. Blowouts can make you feel special, very luxe, and very finished."— Guido Palau
Seen At: Ralph Lauren, Valentino, Coach, Givenchy
Featured Look: RALPH LAUREN
"We're down on Wall Street this season at the Ralph Lauren show. The look this season is classic Ralph. We have luxurious blowouts, low chignons—an assortment of looks. All perfectly complement the clothes and the classic Ralph esthetic. I prepped all of my blowouts with the new Extreme Play Safe treatment to heat protect, reduce breakage, and fortify the models' hair."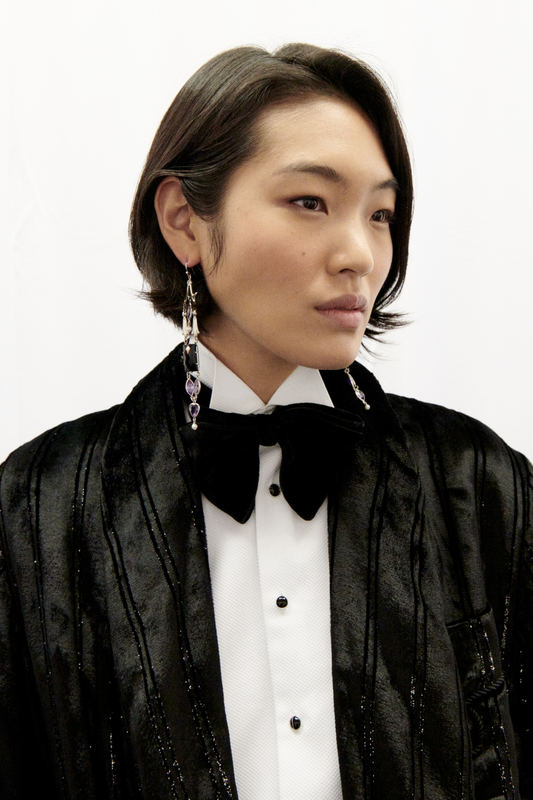 UP, DOWN & ALL AROUND
I love the Chloé and Prada looks—Prada had a nod to the 20s with that deep side part, and Chloé had a nod to the 40s. Both looks are actually fairly easy to achieve at home. On the runway, we perfect these looks, but in real life, I love seeing women do these up-dos in their own way." — Guido Palau
Seen At: Chloe, Alexander McQueen, Proenza Schouler, Prada
Featured Look: CHLOE
"We're backstage at the Chloé show, where I've done a few different main looks. All are inspired by the 40s, with some girls wearing their hair curly, some with a boyish up-do, and some with a boyish twist with their lengths left down. I've utilized my backstage must-haves of Guts 10, new Triple Pure 32 hairspray and Shine Flash 02 to get these looks."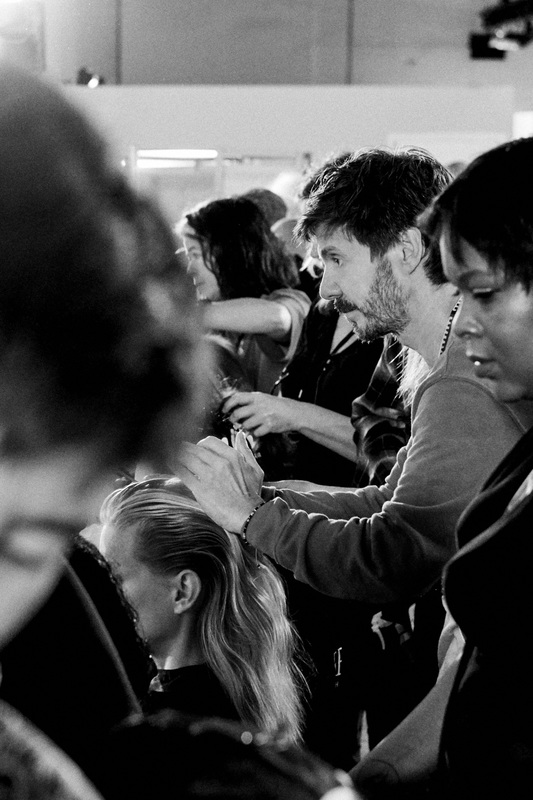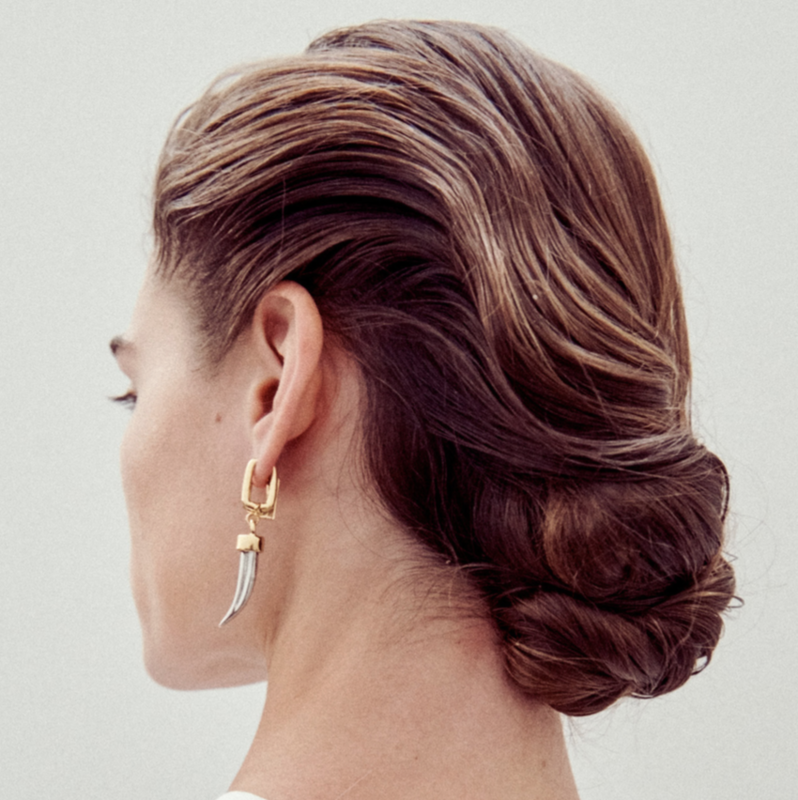 NATURALLY
"Natural or air-dried hair in fashion shows can seem like a foreign concept to women. However, I think it's a statement on its own. You always want the air-dried hair to have a touch of richness, so I love adding in Frizz Dismiss Rebel Tame, blow-drying the top layer out to smooth, and adding bends into the lengths. These added touches add a touch of polish and cut down on frizz while still keeping the natural style intact." — Guido Palau
Seen At: Sacai, Versace, Ports 1961, Valentino
Featured Look: SACAI
"We're here at the Sacai show where I've done an effortless, cool look. I've blown out the models' hair with new Extreme Play Safe leave-in to heat protect while blow-drying, ensuring that I leave some of the natural bend in the models' lengths to give the end look an effortless appeal, which complements the more statement clothing. The Sacai girl is very cool, very downtown, and very effortless with a tough, boyish edge."