Photographer Gary Barragan brought together and all-star cast of stylists, hair artists, makeup artists and models to create a collaboration between Louisville's finest artists! With a militarized theme and high fashion finesse, this series of four takes on a life of its own. Tiffany Nelson was the designer the beautiful wardrobe and in the fourth installation of the series, NAHA Winner Matthew Tyldesley (Hair Artist), Anastasia Gerdes (Makeup Artist), and Ali Garey (Talent) created a fresh, bold take on Valiant Pastiche. With fierce expression, intricate braids and a mesmerizing feel, these artists created a unique vision of strength and courage. Take a peek for yourself and be sure to check out the Valiant Pastiche I and II, and III here!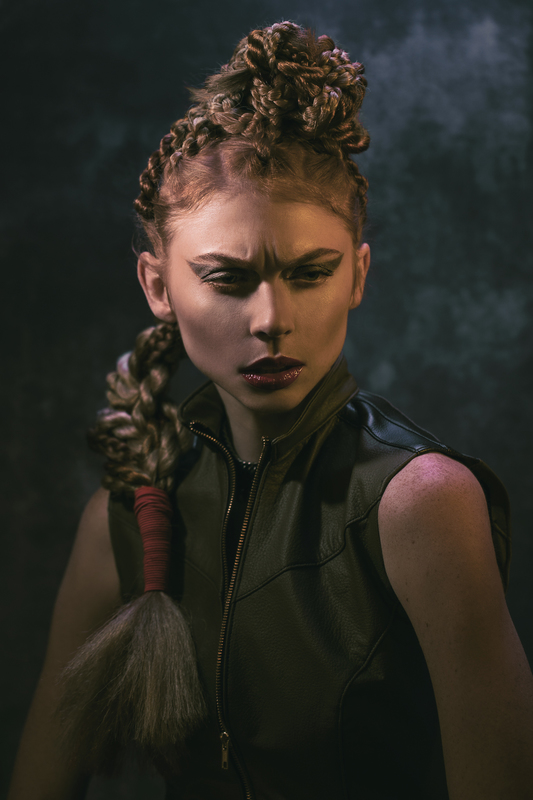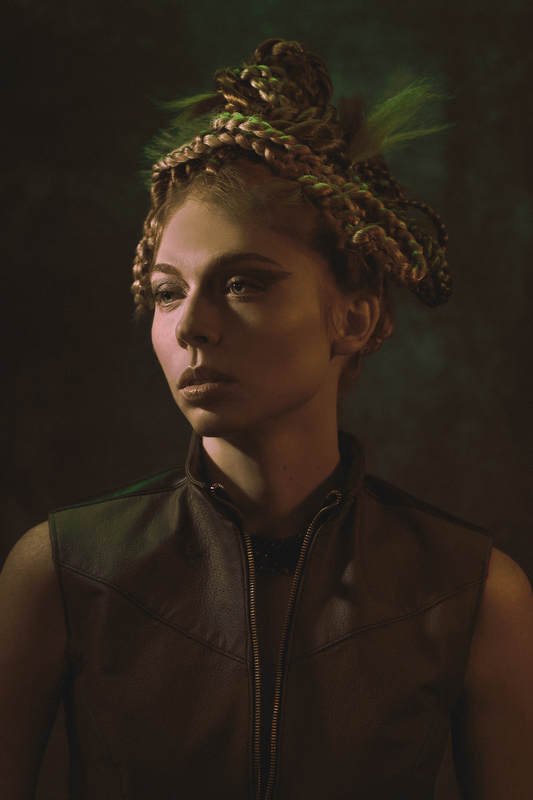 Matthew Tyldesley, Hair Stylist – "I'm always looking to work with new artists as well as ones I have had great rapport with. My schedule can be quite hectic, but somehow I managed to schedule time for the shoot I collaborated with Gary on. I couldn't say no, I had the opportunity to work with a new designer and a new face and head of hair. I arrived downtown Louisville on a Saturday evening with my session kit in tow to complete two looks for Valiant Pastiche. I knew I wanted to create lots of volume with a braided up-do and an elaborate braided side pony with texture. I used kanekalon braiding hair to add density, volume and length to Ali's hair. I then converged the braided together to create the initial look. The second look I divided the hair and secured some on top of Ali's head and with the remainder I converged the braided into a braided side pony, and wrapped red elastic at the bottom of the braid. My product of choice was Redken's Triple Take 32 finishing hairspray for securing fly-aways."
Anastasia Gerdes, Make-Up Artist – "The wardrobe for this collection was quite military inspired, I wanted to create a sharp, angular look that would complement the structure of the garment. I echoed the color scheme of the vest by using khaki shades of cream eyeshadow to execute a strong winged shape on the model's eye. I kept the rest of the face fairly neutral so as not to overwhelm the styling, but later added a lacquered red lip to add contrast and brightness."
Ali Garey, Talent – "The wardrobe and styling for Valiant Pastiche made me feel like I was Tris from the Divergent book series, a woman who is brave, intelligent, selfless, sensitive, and a fighter."
Tiffany Nelson, Designer – "The Valiant Pastiche collection came full circle with the last shoot. Where Stephanie Lynn Johnson brought an intense kind of drama to the look, Ali Wheeler packed ferocity with every shot. I wanted a jacket that worked "fierce" without being overpowering, so I opted for a sleeveless vest jacket this time and a dark green leather to juxtapose against Ali's skin. Getting to work with Matthew Tyldesley on hair and Anastasia Gerdes on makeup was a treat, they both knew how to bring fierce drama to the shoot with their respective skills."
---
Check out the entire collection here: Valiant Pastiche I and II, and III and be sure to stalk Matthew Tyldesley and Gary Barragan on Bangstyle for the latest inspiration!