August 3, 2022, marks the first-ever National Hair Gloss Day.
Hair gloss is also known as toner or glaze is a demi-permanent hair color service that creates healthy, shiny hair with impeccable color and condition. The service has become such a staple in the salon that Redken has now established August 3 as National Hair Gloss Day in honor of its top glossing product Redken Shades EQ — the No.1 demi-permanent color in the US.
What Is Hair Gloss?
Backed by science and prescribed by pros, a Redken Shades EQ Gloss is a professional-only product that is used for in-salon color services to tone, correct, brighten, neutralize and condition the hair. This ammonia-free demi-permanent dye is available in over 100 shades which can be intermixed to allow for endless color creativity. As a hair color that thinks it's a conditioner, a Redken Shades EQ service allows clients to easily update their color and refresh shine in less time than it takes to get a manicure.
The Benefits of Redken Shades EQ Gloss Service: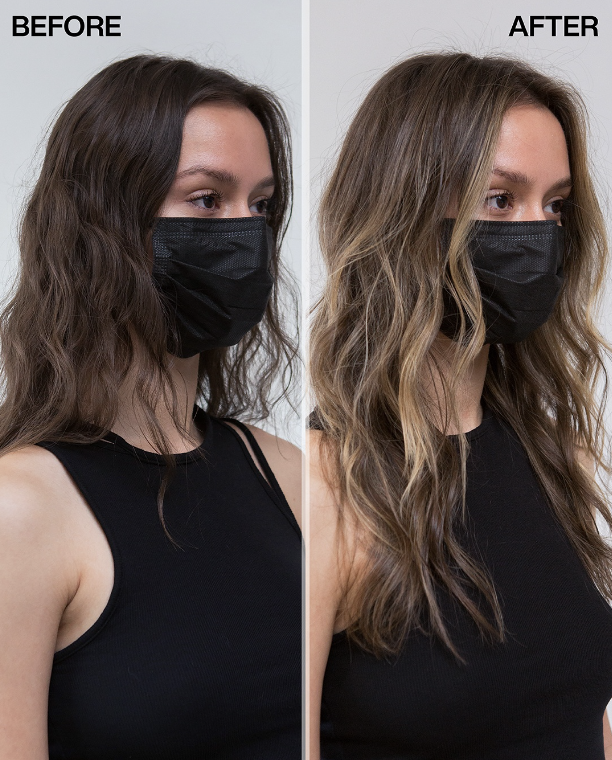 Healthy-Looking Hair
The everyday wear and tear we place on our hair in the form of styling, heat damage or coloring can cause hair to lose its shine. By regularly opting for a hair gloss, Shades EQ can add condition, shine and refreshed color leading to healthy-looking hair.
Refresh & Correct
With the ability to instantly refresh color or highlights between color appointments, a quick gloss service can be added on to styling appointments to counteract brassiness, refresh brilliance, deepen or alter tones. In addition to this Redken Shades EQ can be used to correct color and placement or add dimension.
Shine for All Shades
While tinted glosses are extremely popular to use in the salon, Shades EQ also comes in clear to add shine to any shade. This service can be used on anyone who already colors their hair or if you simply want to add a shiny gloss to your natural color. Think of it as the clear top coat on your manicure — it will enhance any shade.
Color Without Commitment
With proper upkeep Redken Shades EQ Gloss lasts about 4-6 weeks. Gradually fading over time, this unique demi-permanent service allows you to color without permanently altering your hair color, meaning you can try on a variety of shades without committing for the long run.
Getting To Know Redken Shades EQ Bonder Inside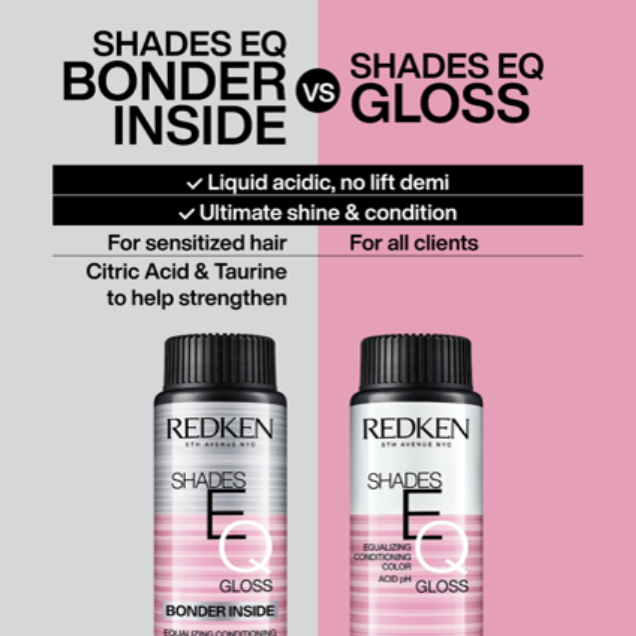 In addition to the iconic Shaded EQ, Redken has also released the innovative Redken Shades EQ Bonder Inside — that tones and bonds in one step to help strengthen sensitized hair. With a built-in bonder, this service reduces the damage caused by lightening services while regulating the pH of hair and delivering strong, healthy, shiny hair.
What People Are Saying:
"As a colorist, I'm constantly doing a Shades EQ gloss services on my clients because it's so versatile! It's great for toning, color correcting, creating new color or even just adding shine and moisturization. Redken Shades EQ Gloss is my favorite hair gloss because it's easy to use and allows me to create personalized color for each client, so they always leave my chair happy with beautiful, healthy hair." — Tracey Cunningham, celebrity hairstylist and Redken Brand Ambassador
"We are thrilled to highlight the power of Shades EQ gloss service by launching Redken Hair Gloss Day to celebrate our loyal pros, fabulous consumers and Redken team that have worked to create the most popular demi-permanent color in the country, Shades EQ Gloss! After years of incredible color creations and well-deserved hype, we are excited to use this new hair holiday as a chance to educate consumers on what exactly a hair gloss is and why it is such an important step in achieving healthy hair." — Candy Gebhart, Redken General Manager
Celebrating National Hair Gloss Day
In honor of Redken Hair Gloss Day, salon professionals can enter here for a chance to win 1 virtual OR in-person class at the Redken Exchange. Sweepstakes valid 8/3-8/17.