Whether you color your hair or not, natural-looking shades are more popular than ever. While minimalist color trends will be everywhere this season, the key to nailing the look is by enhancing your hair with a gloss for maximum impact. This is where Wella Professionals Shinefinity shines — literally.
How to Embrace Your Natural Hair Color
To create your hair color, but better, choose hair care services and products that promote healthy hair and brilliant results. Whether you're looking to enhance grey coverage services, tone down your highlights, or amp up your natural tone, Wella Professionals Shinefinity can achieve it all.

Grey Coverage

At the first sign of greying, you might be looking for a more low-maintenance way to blend. While Wella Professionals Koleston Perfect is the gold standard for full 100% grey coverage and Wella Professionals Color Touch (with Color Touch Plus) can cover up to 70%, Wella Professionals Shinefinity can be used to blend up to 30% grey hair. Shinefinity is a demi-permanent solution with 37 shades that last up to 6 weeks. Beyond just beautiful coverage, it is formulated without ammonia, silicones, alcohols, direct dyes, or animal-derived ingredients, making it the obvious choice for ingredient-conscious clients.
Highlights/Balayage

Enhance your lived-in highlights, perfect your subtle face frame, or completely tone down your highlights to return to your natural base — Wella Professionals Shinefinity lets you quickly change your color without a ton of commitment. The pH balancing formula is excellent to restore balance to previously lightened hair, and because the service lasts up to 6 weeks, you can easily switch up your shade or opt for a change in level at any time.
Natural Hair Color
Due to heat damage, brushing and styling or simply washing, sometimes your natural hair color can appear dull and faded. Whether you want to turn your natural tone up a notch or add shine, Wella Professionals Shinefinity can do either or both! If you're nervous about coloring your hair for the first time, Shinefinity is the perfect solution. As a demi-permanent color, you'll never see a line of demarcation, only reflection and intense shine. As a zero lift, zero damage service, it can enhance your shade but never lifts it and can be applied in clear to create a shiny top coat.
Low-Key Upkeep:
Wella Professionals Shinefinity is a low-maintenance service, and the upkeep is as well. Consider swapping your current formula to Wella Professionals ColorMotion+ to elongate the results of Shinefinity and enhance the condition and strength of your strands.
Wella Professionals ColorMotion+ Shampoo ($25.00), Wella Professionals ColorMotion+ Conditioner ($25.00), and Wella Professionals ColorMotion+ Structure+ Mask ($25.00).
---
Get to know Wella Professionals Shinefinity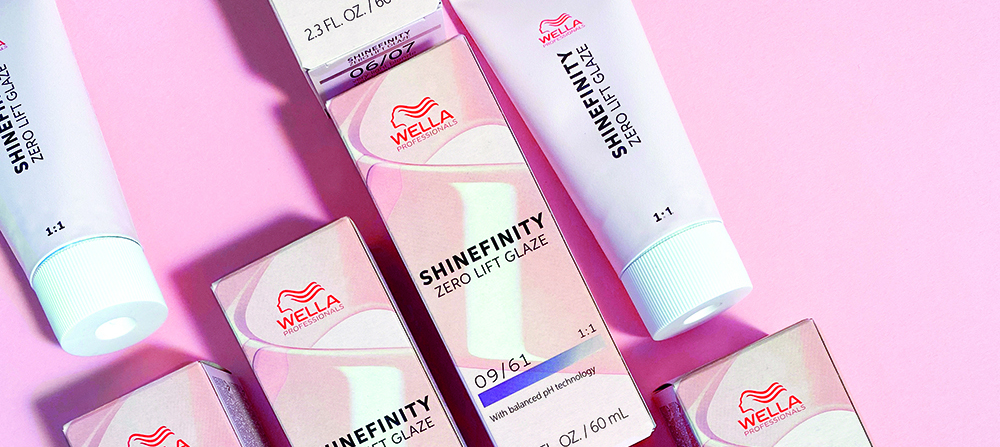 Wella Professionals Shinefinity is a glossing treatment that improves tone while creating a shine you can feel. In addition to creating unbeatable shine and beautiful true-to-tone results, you can look forward to the following with Shinefinity:
37 Demi-Permanent Shades that are intermixable for endless color options
Offers up to 250% shinier hair*
Up to 50% smoother hair**
Up to 50% softer hair**
Tones that last up to 6 weeks
Innovative formula regulates the pH of the hair to ensure it doesn't fall below 6.5 for balanced, optimal color results.
Can be used on natural hair color, after lightening, or in addition to grey coverage services.
Pick from 2 developers: Bowl and Brush Activator or Bottle Activator
Pick from Cool, Warm, Naturals, or Booster color palettes or the just-launched

Signature Naturals collection

featuring 5 shades ideal for counteracting warmth or creating root shadows.
Use

Shinefinity

to create shine, refresh color and highlights, add tone, enhance dimension, or correct color.
1 Shinefinity tube sold every 10 seconds in the world.
*versus untreated bleached hair
**Instrumental testing vs. our regular demi