Some days you probably just don't feel like doing the whole song and dance of washing and styling your hair and we don't blame you. Luckily with modern innovations — shower caps, silk pillowcases and dry shampoo — the ability to extend the time between your style has become easier than ever. We're here to say to skip the shampoo and try a few alternative tips to extend the time between wash days.
Tip #1: Dry shampoo is your BFF
Most of us know the benefits of dry shampoo by now, but you still might be applying it all wrong! Applying dry shampoo at night can actually maximize the benefits and allow you to wake up with refreshed strands from the start. This is because sebum production actually increases overnight, which is sometimes why you wake up with an oily scalp. Adding dry shampoo to your roots before you hit the pillow gives the product plenty of time to absorb any oil, sweat or odor, giving you a fresh style first thing in the morning.
Our Pick: Redken Deep Clean Dry Shampoo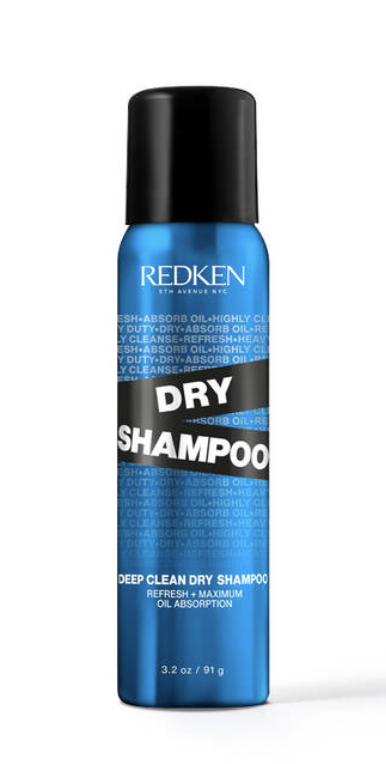 Lackluster volume and oily roots are usually a telltale sign that you're overdue for a wash. If the bottom half of your hair is still presentable, simply divide your hair into two sections and pull the top half of your hair into a topknot, small ponytail or braid. You'll look like you put effort into your style and no one will be the wiser that you skipped a shampoo.
Tip #3: Perk up your pony
If you've opted to air-dry since day one, use your natural texture to your advantage as it also usually looks better with a few days between shampoos. It will create that "perfectly-imperfect" messy ponytail or undone braid. Simply apply dry shampoo to your roots, then pull your hair into a ponytail and secure it with a hair elastic. Gently pull the ends of your ponytail to add volume to the roots, then pull out a few face-framing pieces and call it a day.
Try: These ponytail hacks
Tip #4: Embrace the oil
Hair that's been freshly washed isn't always ideal for creating certain looks like up-styles or braids. Instead, use that second or third day hair to enhance that gritty feeling with a little texture spray, then pull hair into a plait of your choice (i.e. a fishtail braid, a Dutch braid or boxer braids). Tighter braids are ideal for keeping your hair out of your face, while loose braids offer a relaxed, boho feel.
Try: Braid Tutorials for Beginners
Tip #5: Slick it back
You don't always need to combat nature, instead use it to your benefit. If roots are oily, use the natural oils to create a sleek style. The only thing you'll need to pay attention to is minimizing flyaways. To create the look, add a pomade and use a boar bristle brush to gently smooth down the hair, then pull the rest of your hair into a slicked-back high ponytail or a low bun.
Try: A few of these tips for a Slicked-Back Style
Tip #6: Stay covered
Running out of ways to hide oily roots? Embrace the hair accessories trend! Hats, scarves, cute headbands, and deliberately placed accessories can easily upgrade your second or third day style sans heat or effort. For a quick and easy look pull hair into a low bun, then add a headband--you'll look instantly polished, no actual effort required!