With an abundance of cut, color, and styling trends in constant rotation, styles have never been more personalized than they are today. At the center of it all, literally, is your face. From adding deliberate color to choosing a fringe and styling hair specifically for your face shape — this year, it's all about the face frame, and we're breaking down some of the top tips to achieve the perfect balance.
The Top Face Framing Techniques

Face-framing color
Face framing highlights can be created in addition to other techniques or all their own. Within these types of highlights, you might see trends such as the money piece or peek-a-boo lights, and the objective is to accentuate the face. Ranging from subtle to vivid, there are a few options to create the perfect finish.
Base break — For clients who regularly achieve root touch-ups, try alternating shades of

Wella Professionals Koleston Perfect

and choose a slightly lighter shade to apply to the first section surrounding the face. This creates a softer transition and subtly highlights the face.
Face-framing highlights — Whether you're looking to brighten natural tones or break up a global color application, adding finely woven highlights around the face, two to three levels lighter than your base shade, adds dimension to any tone. For best results, lift with

Wella Professionals BlondorPlex

before glazing with

Wella Professionals Shinefinity

.
Money-piece — Similar to face-framing highlights, money-piece highlights create a focal point around the face but with concentrated placement for a vibrant effect. They are reasonably low-maintenance but will require touch-ups and

Wella Professionals Shinefinity

treatments to keep your tone on point.
Fringe
Fringe and face-framing layers have made quite the comeback in recent seasons, and we'll see them continue in 2023. With a range of finishes, with some being more low-maintenance than others, there are endless options with a few stand-out choices. Faux bangs or see-through bangs are great options for someone looking for movement around the face but doesn't want the upkeep of traditional bangs. Curtain bangs or crescent fringe have a more classic, distinct shape that continues to trend season after season and are still manageable for almost all hair types with a bit of styling and upkeep.
The pinch hairstyling hack
No matter your hair color or cut, the pinch styling hack is a quick and easy finishing technique meant to add movement and frame your face.
Essentially, during styling, the fringe area should be prepped with Wella Professionals EIMI Thermal Image and blown dry with minimal elevation and hair moving toward the center to cover the forehead. From here, you can then roll the hair away from the face toward the temples to create a slight bend. To finish, use the pointer finger and thumb to pinch the hair together at the top of the forehead and spray with Wella Professionals EIMI Stay Firm Hairspray. This little tweak will encourage movement and create a lovely face frame.
Wella Professionals EIMI Thermal Image ($20.50), Wella Professionals EIMI Stay Firm Hairspray ($20.50).
---
Get to know Wella Professionals Shinefinity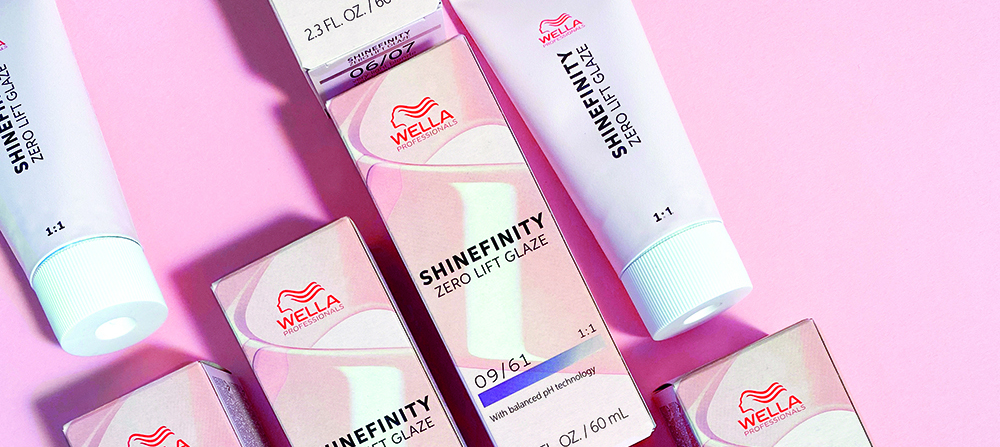 Wella Professionals Shinefinity is a glossing treatment that improves tone while creating a shine you can feel. In addition to creating unbeatable shine and beautiful true-to-tone results, you can look forward to the following with Shinefinity:
37 Demi-Permanent Shades that are intermixable for endless color options
Tones that last up to 6 weeks
Innovative formula regulates the pH of the hair to ensure it doesn't fall below 6.5 for balanced, optimal color results
Can be used on natural hair color, after lightening, or in addition to grey coverage services.
Pick from 2 developers: Bowl and Brush Activator or Bottle Activator
Pick from Cool, Warm, Naturals or Booster color palettes or the just-launched

Signature Naturals collection

featuring 5 shades ideal for counteracting warmth or creating root shadows.
Use

Shinefinity

to create shine, refresh color and highlights, add tone, enhance dimension or correct color.