Platinum and Old Hollywood, Buttercream or Golden Hour and Expensive Blonde — no matter the tone your blonde takes on this season, Wella Professionals can help you achieve effortless results while also looking after the integrity of your hair.
Each season serves up a fresh take on our favorite blonde hair colors — making way for customized tones and exciting new techniques. Heading into the fall and winter months, blonde hair goals are less about achieving one shade over another and more about creating the healthiest blonde possible. From your salon appointment to your home care routine, these are the products stylists swear by to achieve the perfect blonde.

How To Achieve Perfect Blonde Hair
When Lightening
There are very few natural high-level blondes, which means that many of our clients will need to be lightened with bleach. One of the best ways to lift hair while cutting down on damage is with the use of Wella Professionals BlondorPlex. It contains everything you love most about Blondor with the addition of bond-building technology. Ideal for blonde tones, Wella Professionals BlondorPlex is dust-free and contains anti-yellow molecules to cut down on unwanted tones. With up to 7 levels of lift, this formula constructs bonds inside the hair with the help of BlondorPlex Technology. BlondorPlex Technology builds bonds within the hair strand to strengthen the hair and rebalance pH. *Wella Professionals BlondorPlex should always be followed with Wella Professionals WellaPlex No. 2 to stabilize bonds and complete the BlondorPlex service.
If You Need Gray Coverage
Gray coverage has always been and will continue to be one of the most requested services in the salon. Whether altering a shade or simply covering grays, Wella Professionals Koleston Perfect is the ideal match. Providing 100% gray coverage while also allowing up to 5 levels of lift, Koleston Perfect creates balanced color results with natural depths and endless shine. A service all its own, it can also be combined with Wella Professionals Color Touch or Wella Professionals Shinefinity services to complete color from root to tip. For blonde clients who also need gray coverage, the Mirror Lights technique utilizing Koleston Perfect is ideal. You can easily cover grays and extend the time between touchups while providing multi-tonal results and a soft regrowth.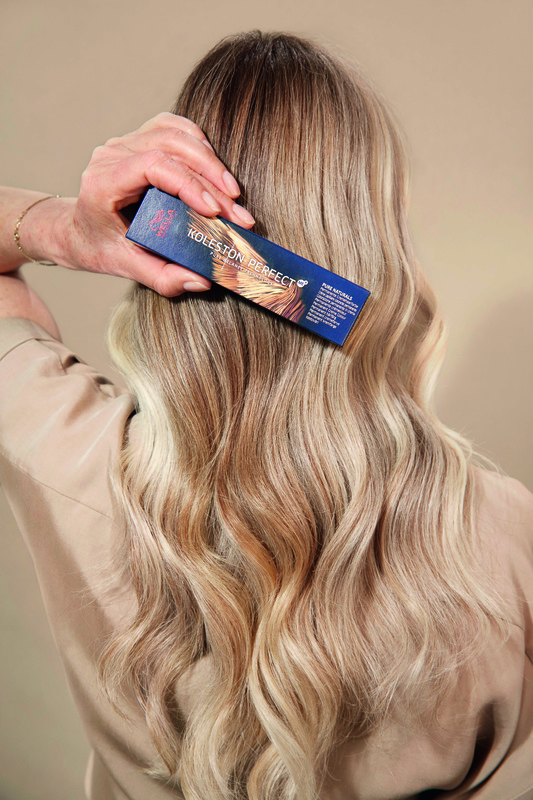 When You Want Endless Shine
Glazing services have proved to be a staple in the salon for enhancing color, correcting tone or simply adding shine to natural depths. With a zero lift, zero damage formula, Wella Professionals Shinefinity creates shine you can feel. A must-have for blonde hair color and care, a Shinefinity Glaze is instrumental following a lifting service to regulate the pH level of the hair and provide true-to-tone results or cancel out unwanted undertones. If your goal is to ensure hair is in its healthiest state with flawless tone, Shinefinity is a must.
How To Elongate Color At Home
Once color is achieved, we want to make sure it lasts as long as possible between appointments. Everything from environmental exposure to heat damage or the hardness of water can impact blonde hair color and the health of the hair. Wella Professionals ColorMotion+ Shampoo & Conditioner is the perfect pair for all blonding services. With regular use, ColorMotion+ improves the quality of the hair, cuts down on damage and strengthens strands thanks to its formulation with WellaPlex bonding agent.
Restore Damaged Hair and Enhance Luminosity
Whenever you dye or lighten hair there is a possibility that damage can occur. Using targeting hair care and treatments helps cut down on the impact, leading to better overall color and finish. Wella Professionals Oil Reflections range is a luxurious line that replenishes the hair structure with oils designed to nourish hair fibers and create smooth and shiny results. Whether utilizing Wella Professionals Oil Reflections Luminous Reveal Shampoo and Instant Conditioner in the shower or Oil Reflections Light Luminous Reflective Oil or Oil Reflections Luminous Smoothing Oil as leave-in treatments this line will protect hair against the impact of color and styling.
---
Get to know Wella Professionals Shinefinity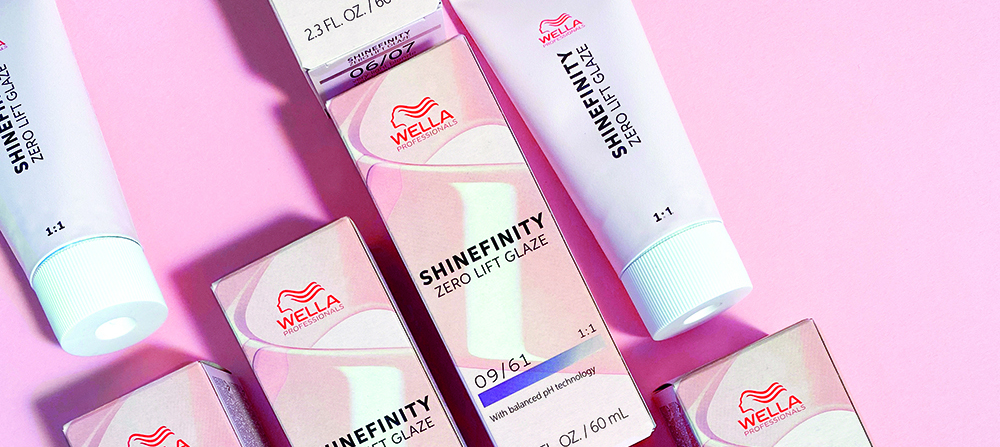 Wella Professionals Shinefinity is a glossing treatment that improves tone while creating a shine you can feel. In addition to creating unbeatable shine and beautiful true-to-tone results, you can look forward to the following with Shinefinity:
37 Demi-Permanent Shades that are intermixable for endless color options
Tones that last up to 6 weeks
Innovative formula regulates the pH of the hair to ensure it doesn't fall below 6.5 for balanced, optimal color results
Can be used on natural hair color, after lightening, or in addition to grey coverage services.
Pick from 2 developers: Bowl and Brush Activator or Bottle Activator
Pick from Cool, Warm, Naturals or Booster color palettes or the just-launched

Signature Naturals collection

featuring 5 shades ideal for counteracting warmth or creating root shadows.
Use

Shinefinity

to create shine, refresh color and highlights, add tone, enhance dimension or correct color.